Evolution of the Hydraulic Cattle Chute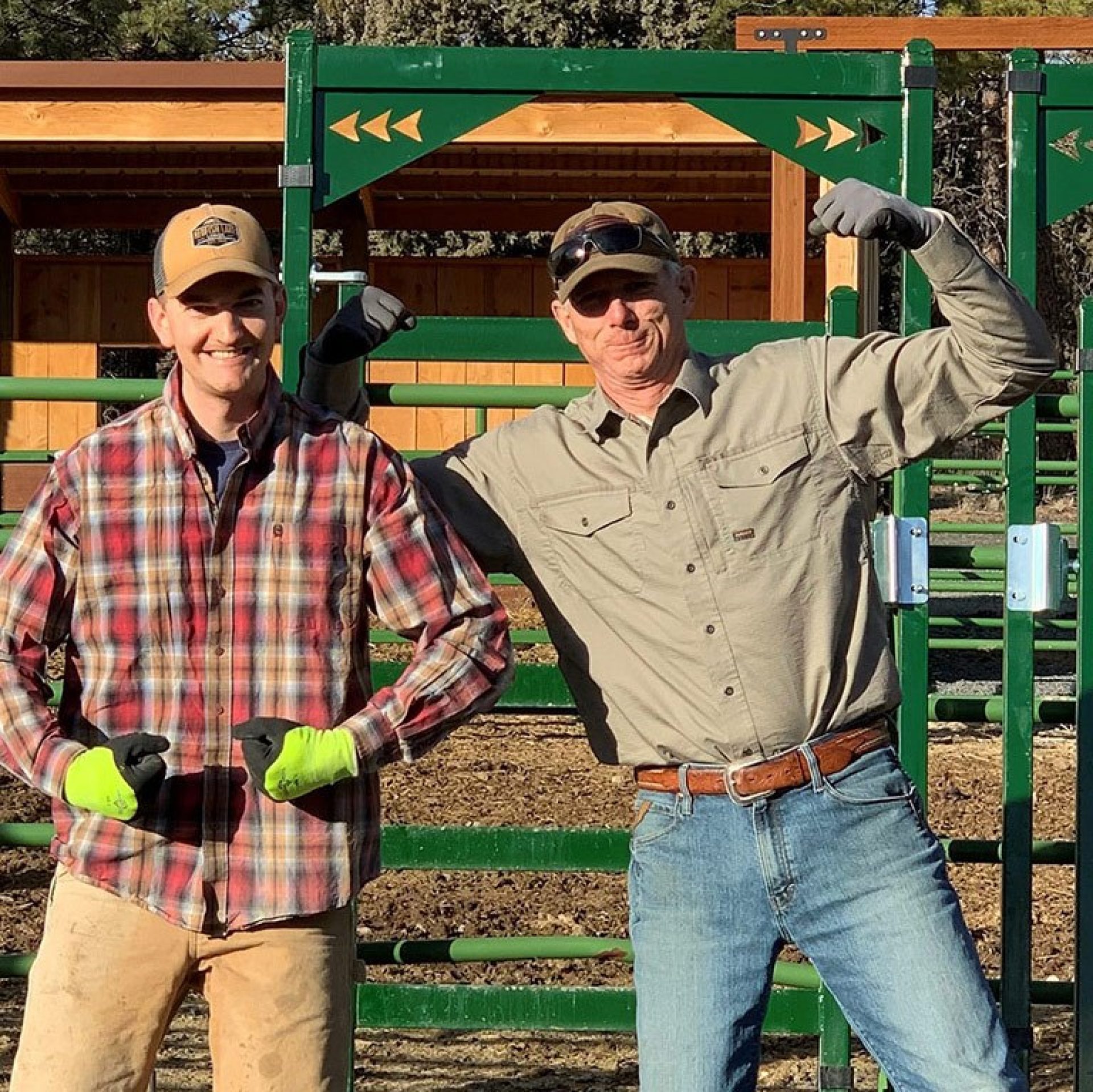 People often reminisce about the good old days, but what they fail to understand is how hard life was back then. Can you imagine working cattle in the days before technology influenced cattle handling equipment? Fortunately, we do not have to. Thanks to the innovation of cattle equipment, we can now work cattle efficiently, safely and use best practices for low-stress cattle handling. Of all the best innovations in the cattle industry, hydraulic cattle chutes stand out.
A Brief History
We all know that cattle equipment is used widely and has a long history in our industry. Technology and mechanization have improved our lives in many ways, including the introduction of hydraulic cattle squeeze chutes.
A hydraulic cattle chute is a squeeze chute that uses hydraulic controls for the tail gate, head gate, squeeze, and in many cases, also head restraints. A well-designed hydraulic chute adheres to low-stress cattle handling practices and focuses on keeping animals and handlers safe, while also increasing efficiency. Hydraulic cattle chutes should be durable, well-made, and quiet. All these features help ensure a long lifespan for the chute and that the principles of low-stress cattle handling are adopted. For example, a hydraulic chute with the engine mounted on the top is noisy and spooks cattle, causing them to become chute shy and increasing stress.
Arrowquip's research and development team continuously seek improvement in our chutes using the latest technology and animal science research. This has allowed our equipment to evolve alongside that of the industry. We currently offer three hydraulic cattle chutes, the Q-Power 104, Q-Power 107, and The General. While each is exceptional, the evolution of our technology and understanding of animal behavior remain at the forefront. Each of these chutes can play a different role in a cattle operation based on the size and type of operation, the handlers' individual needs, and the cattle system.

The Q-Power 107 Series
We have always believed in creating the quietest cattle equipment possible. Ongoing research and development showed us new technologies that could withstand the wear and tear of daily work on a ranch while also being quieter. The Q-Power 107 Series incorporates these features and is engineered for durability and endurance.
With more than 107 quiet points from front to back, the 107 includes poly-coated slam latches, poly bushings on all pivots and hinges, rubber flooring, caulking on all sheet metal panels, two rows of nylon rump fingers, and a rubber-coated fiberglass rump bar. Combined, these features make the 107 a virtually silent chute that is built to operate quietly, unlike other chutes that only attempt to muffle noise rather than eliminate it, such as Silencer.
Additionally, we worked on the motor to make it even quieter, and it is now virtually silent while offering the same powerful, fast-response hydraulics to get the work done in half the time. Finally, we recognize that not all operations have access to an electrical outlet all the time. The 107 is compatible with a gas power pack or tractor hook-up for more flexibility, and with a 15-year industry-leading warranty, you can work your cattle with confidence
The Q-Power 104 Series
Arrowquip set out to provide ranchers with a hydraulic chute that is practical and straightforward without compromising safety, quality, or affordability. The Q-Power 104 Series is the answer to this need. Featuring the same structure and access features as the Q-Catch 74 Series manual squeeze chute, and adding in the hydraulic squeeze chute component, the 104 is powerful and practical. When immobilizing cattle in a chute, head restraints are an important feature. The hydraulic head sweep can be added to the 104 to gently hold the animal's head in place while minimizing injury risks to cattle and the handler.
At Arrowquip, we use our equipment because we are also cattle people. We understand that portable cattle equipment is important. The top-mounted hydraulic pump on the 104 is compact and quiet. Although top-mounted pumps aren't the best choice when it comes to animal science, they are necessary in the market to provide affordable hydraulic chute options. At Arrowquip, researchers worked to find and a pump that was as quiet as possible. When combined with the rubber floor and multiple quiet points, any rattling that could happen with other top-mounted pump options are eliminated, making it the quietest top-mounted pump chute on the market.

By adding on a wheel kit option, the 104 can be taken anywhere there is an electrical power source. Combined with the other low-stress cattle handling features present on all Arrowquip equipment, the 104 provides an easier, faster, and more affordable way to work cattle, without compromising safety. Paired with a 10-year industry-leading warranty, the 104 will help you get the job done right every time.
The General
Feedlots have different needs than other cattle operations. They have thousands of animals, and many come from different producers. The principles of low-stress cattle handling may not have been used with these cattle, and they often have varying experiences with cattle handling equipment. All this means that the cattle chute at a feedlot must be ready to withstand significant use, provide excellent access and maximize flow and control without putting added stress on the animals.
Our engineers have studied cattle handling equipment in feedlots for 17 years. The General went through many prototypes and was extensively tested on feedlots with 80,000 head and 25,000 head, respectively. This chute does it all with zero compromises and provides full access on both sides of the chute, infinite Neck Extenders to work with any size animal, a pivoting hydraulic control arm, and three-way functionality in the squeeze.
We patented the three-way squeeze chute functionality. It allows handlers to use the parallel squeeze, V-squeeze, or the never-before-seen A-squeeze, depending on the size of the animal, their stress level, and what is safest for the handlers. The General is also a solution for cow-calf producers as it is the first feedlot quality hydraulic chute with the access they rely on. With a 15-year industry-leading warranty and easily replaceable parts, downtime will never be an issue with The General.
The evolution of hydraulic cattle chutes has improved outcomes for the cattle industry. The General transforms the cattle industry, making it easier for those involved to have equipment that works just as hard as they do, while also providing a cattle working experience that is easier, faster, and safer. The good old days in cattle handling and squeeze chute technology aren't behind us, they're happening right now.

For more information on our hydraulic chutes and choosing which is the right model for your ranch, please fill out the form below, and a member of our team will contact you soon.