Q-Catch 74 Series Portable Squeeze Chute, Alley & Tub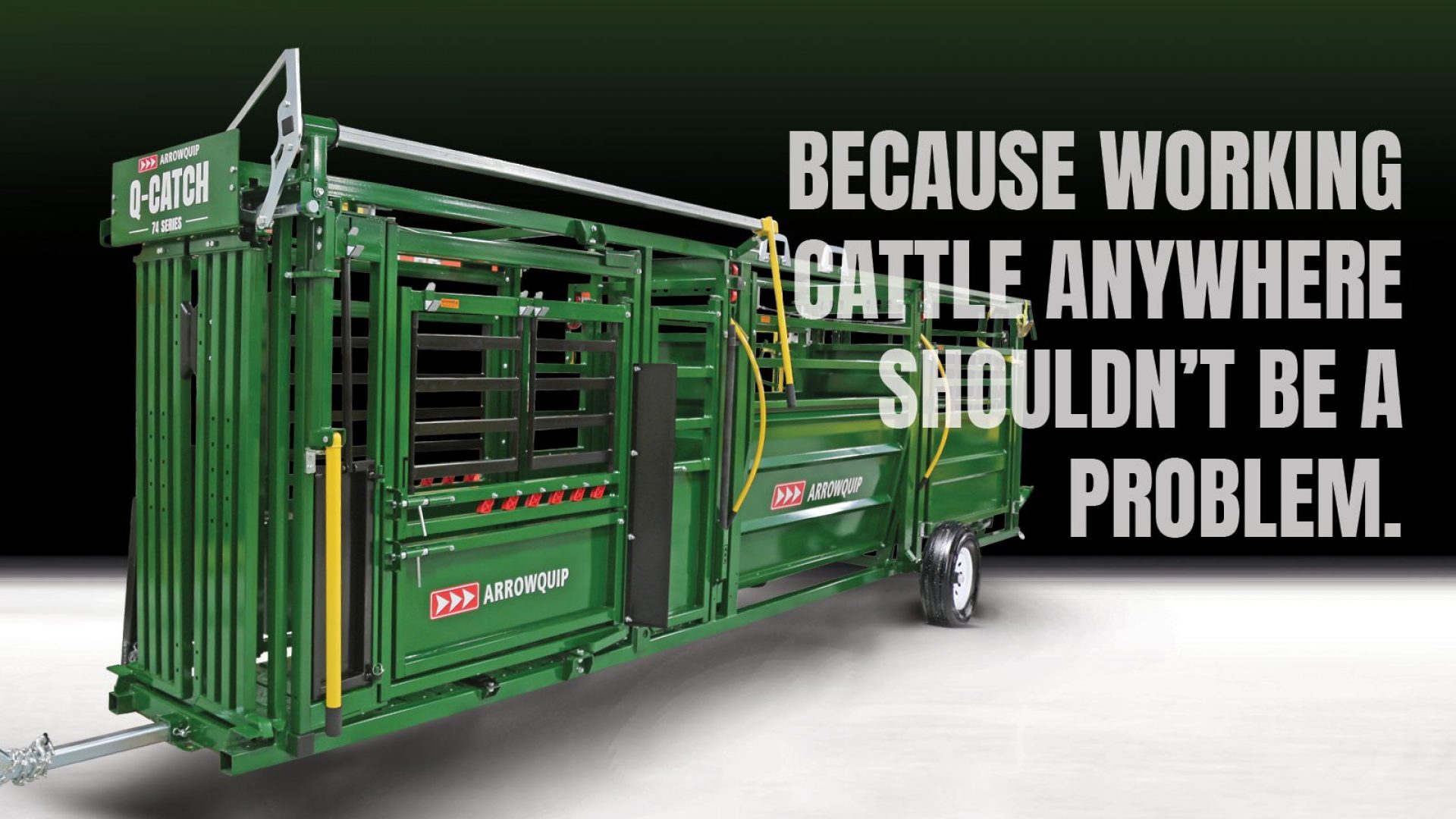 Read Full Video Transcript
The Q-Catch 74 Series Portable Squeeze Chute, Alley and Tub is a full working system built for efficient cattle handling in any pasture. Featuring the Q-Catch 74 Series cattle chute, an 8' Easy Flow adjustable cattle alley section, and an 8' crowding tub, this portable cattle handling system provides you with all that you need to get the job done anywhere, anytime.
The enhanced frame and improved portability are key items that make the Q-Catch 74 Series stand apart from the competition. With an adjustable hitch, two manual jacks, and an improved collapsible tub design, setting up this portable handling system can be done in just five minutes.
Who says you have to compromise features for portability? With the Q-Catch 74 Series Portable Squeeze Chute, Alley and Tub, you can have it all and get the work done faster, so you can get back to what truly matters.
Fill out this form to receive your Portable Q-Catch 74 Series brochure:
We purchased the 74 Series portable with alley and tub. WOW! I had to haul it home about 175 miles, this thing tows really good. We didn't have any issues traveling with it. When we got home my wife and I set it up in about 5 minutes. Everything works like a dream and cattle flow through so nice.
- Bryan Kerns, Rancher -
Product Features
3E Q-Catch Cattle Head Gate [PATENT-PENDING]

The new 3E Q-Catch Cattle Head Gate features a new look that allows cattle to see light through the head gate even when closed. This new design works with cattle psychology to show a way out past the cattle head gate using a unique barred style, encouraging cattle to enter the squeeze chute with ease.

Complete Cattle Handling System

From tub to chute, this portable cattle handling system is designed to equip you with all that you need to work cattle anywhere. Moving livestock into the system is easy with the 8' crowding tub at the rear end, while the 8' Easy Flow adjustable cattle alley is cradle-shaped to keep livestock from turning around. With the Q-Catch 74 Series cattle squeeze chute at the front of the unit, you gain complete control and access to the entire animal.

Portable System Frame [PATENT-PENDING]

The Arrowquip R&D Team has spent hundreds of hours enhancing the portable system frame to make it as easy to transport and set up as possible. Featuring a new portable chassis that allows the 8' crowding tub to fold in on itself, this portable full cattle handling system is only 29.5' long (from the hitch to the end of the tub) and 6.75' wide (from wheel to wheel) when towed. Additionally, the redesigned system frame eliminates tripping hazards in the cattle crowding tub.

Transportation

For even easier transportation, the Q-Catch 74 Series Portable Squeeze Chute, Alley and Tub comes with an improved adjustable hitch including an added gusset for additional support. When setting up for working or towing, the two wheels are easily installed or removed with two pins, while the bracket can be adjusted to work with different vehicles. Available with a 2.3125" ball hitch or pin hitch.
Q-Catch 74 Series Portable Squeeze Chute, Alley & Tub Video Testimonials
See what Others Have to Say
Want more information?
Contact Arrowquip
Product Specifications
New head gate design uses light to draw cattle into the squeeze chute
Q-Catch head gate operation handle can be situated anywhere along the side of the chute
Curtain-style head gate opens to a full 30" top to bottom for cattle to exit the chute
Easy to use push-pull squeeze chute lever
Squeeze ranges from 29.5" fully open to 7.75" fully closed
The Q-Catch squeeze locking system features a dual friction lock with infinite adjustments
New Direct Drive system provides faster head gate response
Rump fingers ensure safety no matter the size of the animal
Poly-composite rump fingers are engineered to endure high pressure
Ambidextrous rolling door that can be operated from either side of the chute and is reversible
The rolling door running track is top-mounted, eliminating the issue of build-up
Vet door opens in both directions for a full 180° of maneuverability (Deluxe Vet only)
Low-profile latch ensures the vet cage door will not swing to the inside of the chute when slammed shut (Deluxe Vet only)
Swing-out top and bottom access doors can be used individually or together to access the entire animal
Side access panels are removable and can be configured in a variety of positions to suit your operation's needs
12.75" top to bottom needle door access
New drop-down needle bar allows for quick injections
Rectangular tubing limits cattle bruising
Pivot and latch points feature poly bushings for silent operation
Metal stamped ribbed floor provides great traction for animals
Head Gate locking pin adds safety when transporting the cattle chute, or completing maintenance
Both sides of the Easy Flow Alley can be adjusted from one side
Cradle-shaped 8' Adjustable Cattle Alley Section ranges from 29.5" to 18" in width
Both side panels drop down fully, allowing the handler to access the animal in case of emergency
Easy Flow alleys come with removable panels so you can control what cattle see in the alleyway
Safety latches on the Easy Flow Alley side panels add security and control when adjusting, ensuring the sides will not drop accidentally
The tub folds in on itself so that it is compact for transport
Cattle tub measures just 3' wide when panels are folded in
Single piece steel frame has been reinforced with 2x3 beams that run the length of the unit
Available Add-Ons / Options
Contact Arrowquip
Thank you for your interest in Arrowquip! Fill out the short form below and someone from our team will contact you within one business day. In the meantime, you can also check out our FAQ section.
Product Reviews