No Bow Cattle Gates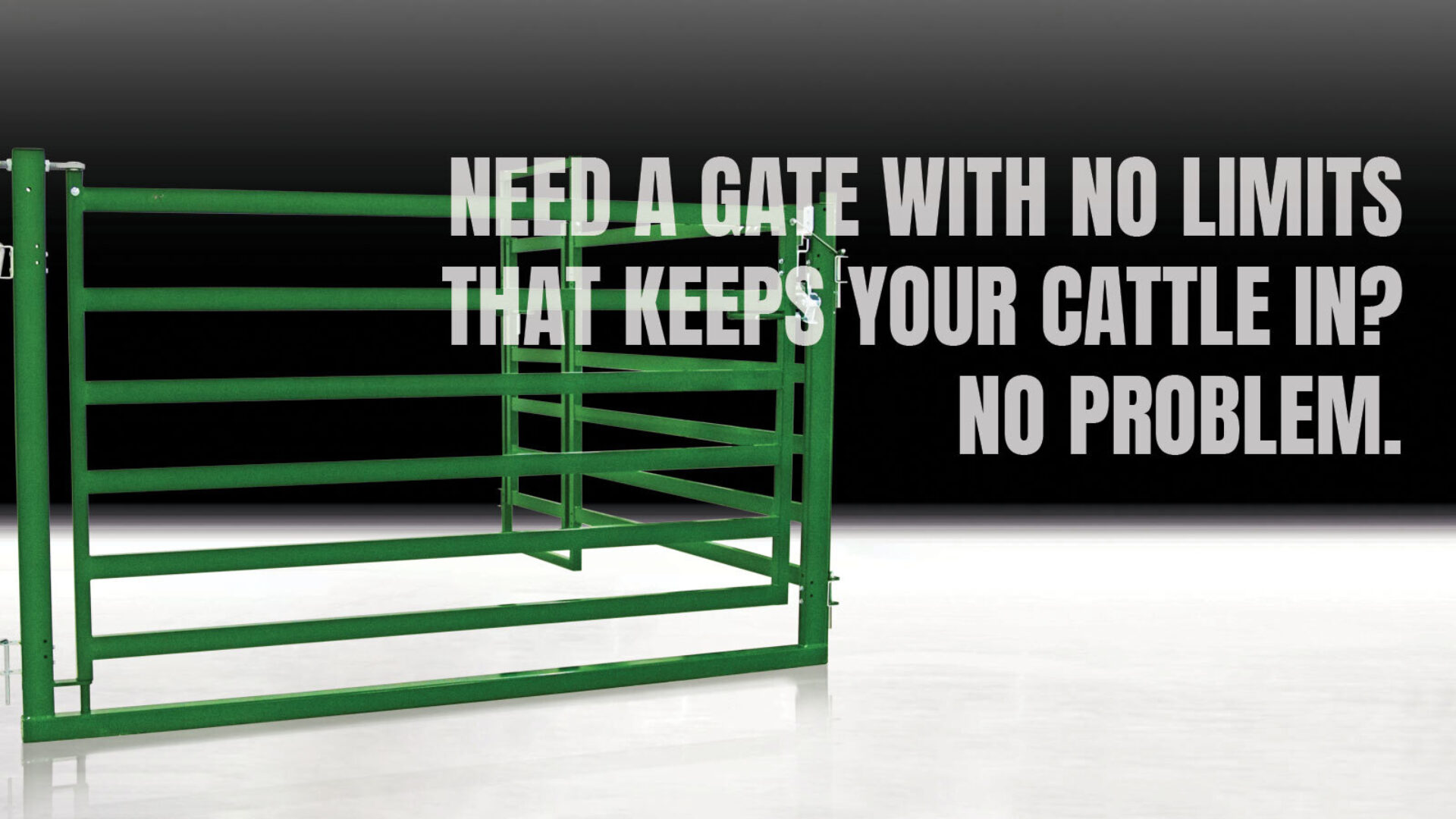 Introducing Arrow No Bow Cattle Gates, a new type of yard gate you can use anywhere in your cattle corrals and handling systems. Featuring a NEW hinge system, easily remove the gate from its frame to weld or bolt it anywhere in your existing system where you need a secure, highly durable gate.
With a new Two-Way Slam Latch and Cowboy Latch option, operate your no bow gate effortlessly from the ground or horseback, and trust it will close behind you securely, every time. For peace of mind, we've added a safety latch for extra security when holding cattle overnight or for a long period of time.
With key features from our bow gates and cattle corral panels including 3" wide tubing cattle easily see, and progressively spaced rails that put a stop to calves sticking their heads through, these gates are built to securely contain your cattle in any situation. For added safety and bruising prevention, additional panel clips are located on all sides of the gate posts for a flush connection when used in alleyways.
Arrow No Bow Cattle Gates are available in 8', 10', 12', and 14' lengths. Whether you are looking for a secure gate for your yard or pasture, or want to completely overhaul your cattle handling system, these no bow gates are up to the challenge.
Upgrade your system with a gate that is safer and easier to use and built to last. Maneuvering your tractor to haul bales and ducking to ride a horse through your bow gates is no longer a problem. Highly durable Arrow No Bow Cattle Gate. Backed by our exclusive 3-Year Warranty.
Fill out this form to receive your brochure:
Product Features
Enhanced Two-Way Slam Latch

Nothing gets your heart racing faster than seeing a gate that should be closed, wide open. With a new two-way slam latch on Arrow No Bow Cattle Gates, operating your gates and ensuring they're closed securely is effortless. Featuring similar technology found with the slam latches on our Q-Catch and Q-Power cattle chutes, this upgraded latch locks into place. With our enhanced two-way slam latch for cattle gates, you can be sure your no bow gate will close securely every single time.

Yard Gates that Are Built to Last

Like all Arrowquip products, Arrow No Bow Cattle Gates are made to stand the test of time, and rowdy cattle. These no bow gates are crafted with North American 16-gauge steel, 13-gauge posts, thick 3" railings, and are powder coated with the same quality seen on top-of-the-line farm equipment. Backed by our exclusive 3-Year Warranty.

New Bow Gate Hinge System

Arrow No Bow Cattle Gates features a new hinge system, so you can add them to your facility wherever you need them most. Easily remove the gate from the bow frame in a matter of seconds to use it as a yard gate for seamless integration with your existing cattle corrals or handling systems. Featuring nylon bushings for maintenance-free operation, moving, and sorting your cattle is as smooth as possible.

Gates Made to Prevent Bruising

All Arrow Cattle Panels and No Bow Gates feature six strategically placed 3" rectangular rails. These thick rails provide a larger surface area for cattle to come in contact with, increasing the pressure of contact with the rail itself. Research shows that larger railings on cattle corral panels and gates can prevent and minimize the severity of bruising and dark cutters when compared to standard oil pipe and smaller rail options. No Bow Gates also features added panel pinning points for a flush connection when used in an alleyway to further mitigate cattle bruising.
What is A No-Bow Cattle Gate?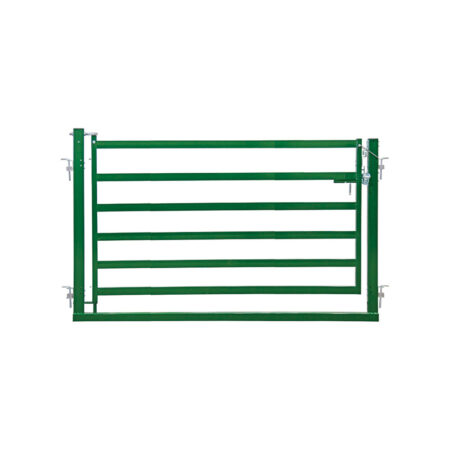 Struggling to move bales with your tractor and having to watch your head when riding your horse through typical bow gates is no longer a problem with Arrowquip's No Bow Gates. We took the typical bow gate and reworked it into a sturdier, more durable bottom frame. The result is a heavy-duty yard gate that you can drive, ride, or walk over without even thinking about it, so you can keep your focus on the task at hand.
See what Others Have to Say
Want more information?
Contact Arrowquip
Product Specifications
Heavy-duty no bow gates for cattle corrals and cattle handling systems
New two-way slam latch for secure closure every time
New hinge system allows for easy gate removal and ability to bolt or weld gate to an existing system as a yard gate
Hinge system features poly-coated bushings to prevent seizing
No Bow Gates swing fully open 360°
Bottom frame eliminates risk of injuries seen with bow gates
3" rectangular rails provide a large visual barrier
Thick rectangular bars provide a larger surface area for impact, and drastically reduce bruising
Crafted with 16-gauge steel for enhanced durability and stability and 13-gauge posts
Built with North American steel
Cowboy Latch option
Added safety latch for extra security for holding cattle overnight, eliminates need for a chain
Can be used to craft full cattle handling systems or simply replace broken pieces of your existing setup
Cattle panel clips and pins included
Semi-permanent no bow gates that can be moved at any time to suit your system as it changes
Pair perfectly with Arrowquip's cattle panels for a custom design
Backed by Arrowquip's exclusive 3 Year Warranty
Available Models
Model: 14 ft No Bow Gate

Weight: 414 lbs.

Dimensions: 6.3" w x 74"h x 173" l

Model: 12 ft No Bow Gate

Weight: 373 lbs.

Dimensions: 6.3" w x 74" h x 149" l

Model: 10 ft No Bow Gate

Weight: 298 lbs.

Dimensions: 6.3" w x 74" h x 123" l

Model: 8 ft No Bow Gate

Weight: 223 lbs.

Dimensions: 6.3" w x 74" h x 101" l
Contact Arrowquip
Thank you for your interest in Arrowquip! Fill out the short form below and someone from our team will contact you within one business day. In the meantime, you can also check out our FAQ section.
Product Reviews