The General Hydraulic Cattle Chute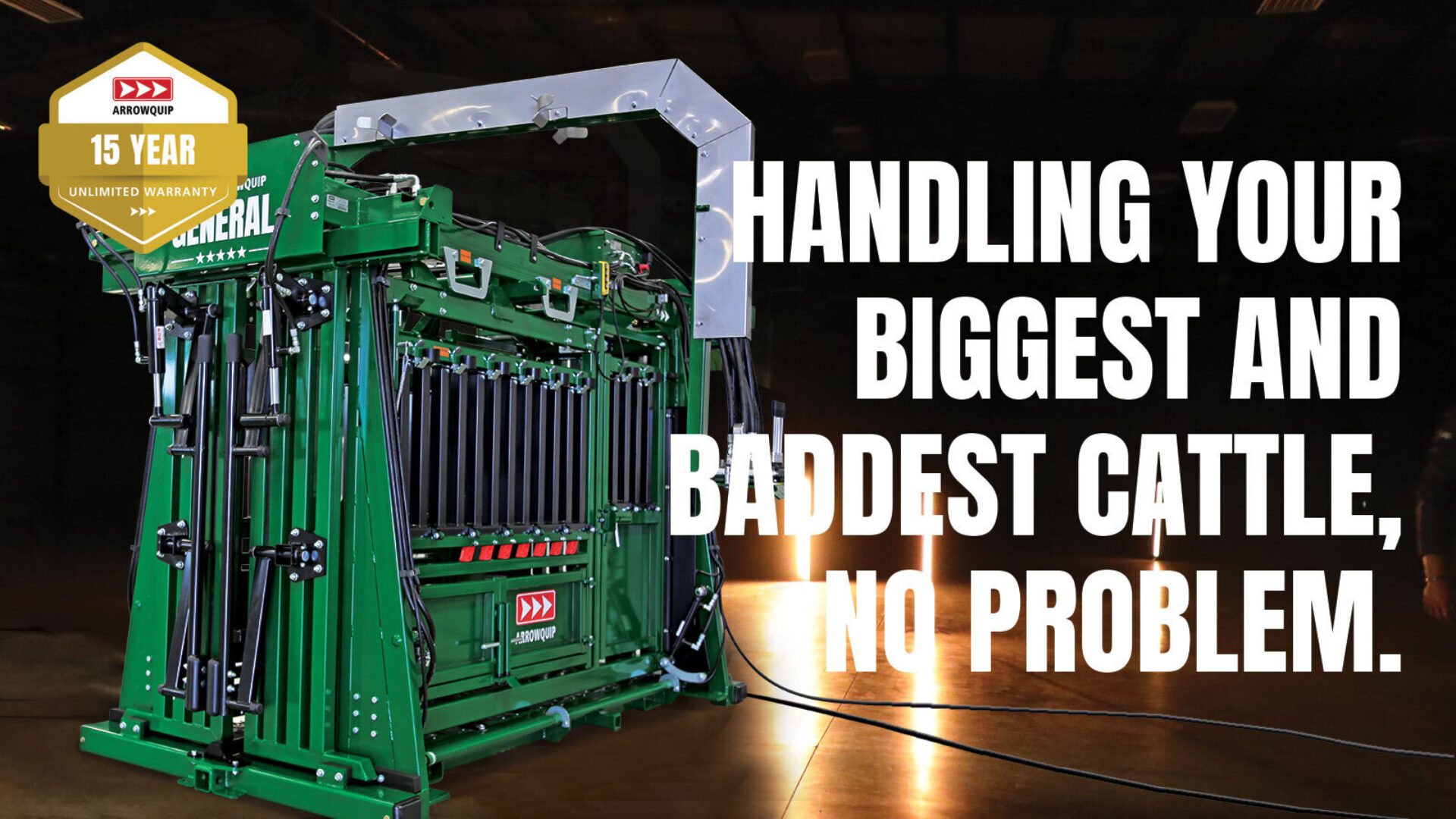 Introducing The General hydraulic cattle chute. Finally, a feedlot quality cattle working chute that can do it all without compromise.

Our team of experienced cattle ranchers and engineers have crafted The General hydraulic chute with incredible attention to detail, reviewing every area meticulously for enhanced performance. Every inch of the chute has been designed with animal science at the forefront for better cattle flow, while providing the access and control you need to get the job done right.
The General is the culmination of 17 years of research, design, testing, and continuous improvement by the Arrowquip Innovations Team, resulting in the most reliable heavy-duty hydraulic chute the industry has ever seen. This chute is ready to take the big numbers of livestock seen in feedlots, and offers the access that cattle farmers need to complete their management tasks day in, and day out.
For your largest livestock, The General opens to a full 31.5" from top to bottom, and has a unique 3-way squeeze design that has never been seen before in the industry. The pivoting swing arm allows you to control the live floor and top-mounted squeeze to move between Parallel, V-Squeeze, or A-Squeeze as needed when processing your cattle from either side of the chute.
UNMATCHED ACCESS. FEEDLOT QUALITY. PROPER FLOW. ENHANCED CONTROL.
THE GENERAL IS READY FOR DUTY.
---
Why does the cattle industry need The General?
While there are plenty of hydraulic cattle chutes in the industry, there are no options that fully satisfy the needs of cattle producers in all sectors. Arrowquip's resident "Mad Scientist", Steve Langrell, and the Innovations Team have been working on ideas for The General for the last 17 years. The ideas and concept that they came up with formed the basis of The General, a completely unique and never before seen design for cattle producers of all types. Offering every point of access that the rancher needs, paired with the performance that feedlots operators need to manage the big numbers every day. Why The General you ask? Because this chute is designed for you.
ARE YOU A FEEDLOT?
For more information on how The General heavy-duty hydraulic chute can improve your operation, visit us at Operation Arrowquip.
Fill out this form to receive your brochure:
The General far exceeded my expectations. This unit is just - wow. A beast.
- Landon Powe, Rancher -
Product Features
Their Options are Our Standard

Customization is great, but not when it means waiting months for your new equipment. With The General, our experts combined the features cattle producers and feedlots need most including full, safe access, and easy-to-replace parts, into one standard model. The General has the durability, access, and functions you need because you shouldn't have to sacrifice key features when you can have them as standard.



Unique Neck Extender Design

Get the best access and head control with Hydraulic Neck Extenders. By gently stretching the animal's neck forward, they are kept stationary for injections and treatments, regardless of their head position. Neck Extenders lie completely flat against the head gate when not in use to prevent possible damage to the eyes. Paired with fine-tuned feathering and infinite extension, they can be used for livestock of any size.


Unparalleled Cattle Access

The General offers the access you need in a heavy-duty hydraulic chute. With 8 drop-down access panels, a dedicated pour-on area, split bottom access gates for safe and easy access for semen testing or nursing calves, an XL Vet Cage, and emergency access as standard features, The General takes cattle access to a whole new level.


Three Squeeze Styles in One Cattle Working Chute

The General has a unique floating squeeze track and live floor that allows the handler to choose from three squeeze settings.

Parallel squeeze: The best way to create flow from the alley into the chute.

V-Squeeze: Known as the best way to hold and support cattle and accommodate larger animals, keeping them upright in the chute.

A-Squeeze: Unique to Arrowquip, a great option for rowdy or nervous livestock prone to going up in the chute.

The General Hydraulic Cattle Chute Video Testimonials
See what Others Have to Say
Want more information?
Contact Arrowquip
Product Specifications
Interlocking steel frame ensures the structural integrity of the unit, with a significant increase in strength over standard welds
Massive 5/8 plate gussets further enhance strength of the frame
Heavy-duty Delrin Rollers on Head Gate, Tail Gate, and Squeeze
Head Gate track built with 5/16 plate steel for enhanced strength
Rubber Cushions on the Head Gate help eliminate bruising on the shoulders
Strongest curtain-style Head Gate doors in the industry
3E Head Gate and Tail Gate allow cattle to see more light for better flow
Steel floor pans topped with highly durable rubber floors
Hydraulic controls mounted on the pivoting swing arm
Top-mounted cylinders are easy to access
Completely eliminated linkages to reduce wear points
All parts that may wear are easily replaceable with bolt-on parts
Available Add-Ons / Options
Contact Arrowquip
Thank you for your interest in Arrowquip! Fill out the short form below and someone from our team will contact you within one business day. In the meantime, you can also check out our FAQ section.
Product Reviews