The Colonel Heavy Duty Hydraulic Chute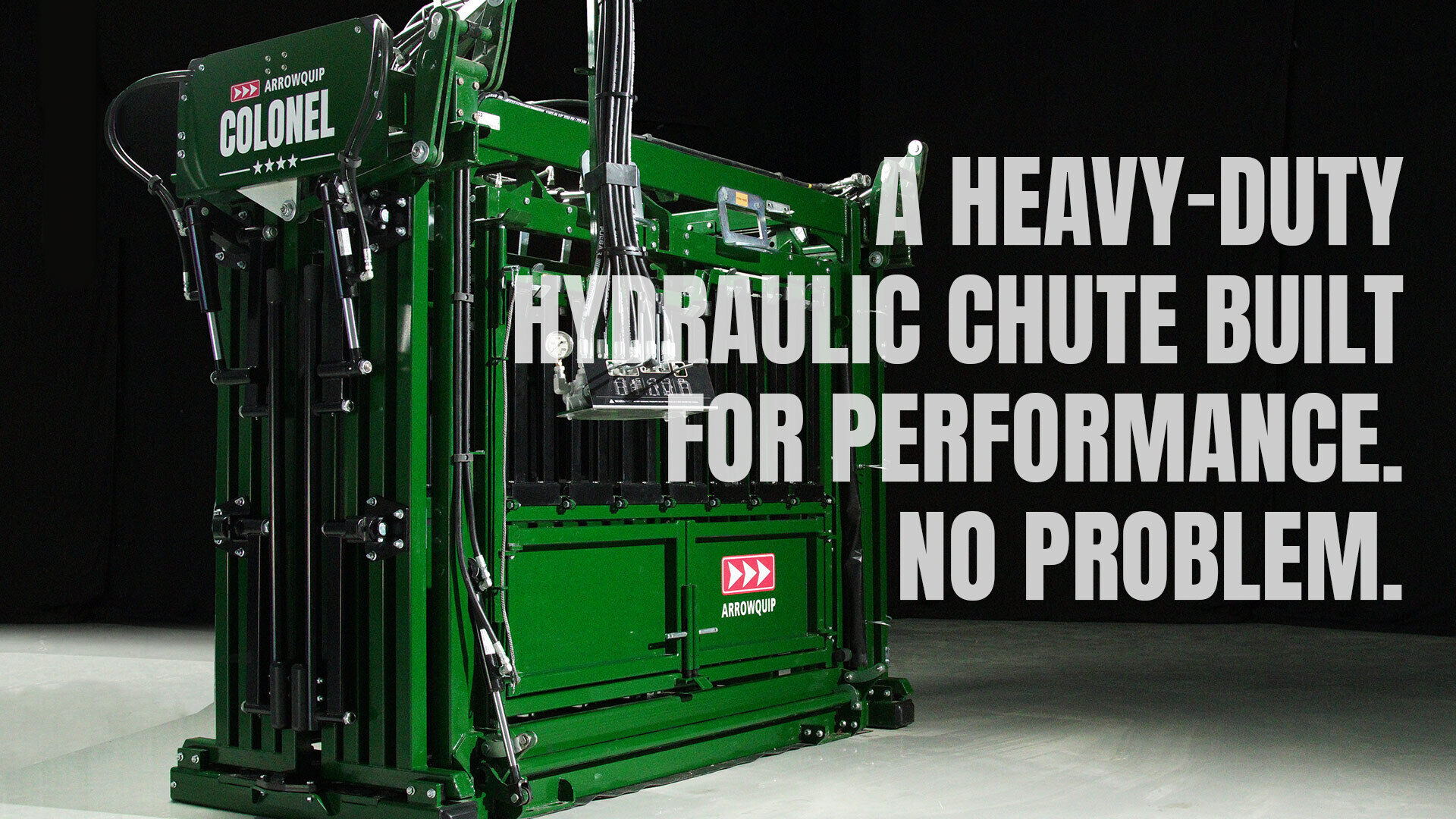 For large-scale and feedlot cattle operations, we understand the demand is greater, and the challenges are bigger. You need a chute you can rely on to perform under pressure. Introducing The Colonel, a heavy-duty hydraulic chute that is built for maximum performance and durability, no matter the task at hand.
The Colonel is a born workhorse and designed to take some of the weight off your shoulders, so you can keep your focus on getting the job done. From front to back, every inch of this chute is made with large-scale cattle operations in mind with durability, efficiency, and safety as top priorities.
The Colonel comes standard with the features you need and will use, including a unique 3-way squeeze and live floor, high-quality construction with massive 5/8 top gussets and 3/8 bottom gussets for maximum strength, hydraulic neck extenders for total head control, and multiple safe access points.
Paired with easy-to-replace parts that any mechanically inclined hand can complete, parts readily available in stock, and a Client Care Team available 24/7, never again worry about downtime. The Colonel is ready to take on any challenge on your operation, no matter how great.
The Colonel is reporting for duty.
ARE YOU A FEEDLOT?
For more information on how The Colonel heavy-duty hydraulic chute can improve your operation, visit us at Operation Arrowquip.
Fill out this form to receive your brochure:
Product Features
Made to Take on Your Numbers

Built heavy-duty with first-grade North American steel, The Colonel is made to take on large numbers of cattle and stand up to repeated use, day after day. Featuring 5/8 plate top and bottom gussets and a head gate track crafted with 5/16" plate steel for added strength, you can rely on The Colonel to perform under pressure.

Infinity Floor

Our NEW infinity true rubber floor dampens sound for a quiet cattle-handling experience and provides seamless coverage across the entire chute floor from front to back. Paired with the Traction Kit, cattle get added assurance to make processing a smooth, efficient experience.

Work in Three Ways

Get three ways to work with The Colonel. Featuring a unique 3-way squeeze and live floor, choose between parallel squeeze for the best flow from alley to chute, A-squeeze for rowdy or nervous cattle prone to going up, or V-squeeze to support cattle, keep them upright, and accommodate larger animals.

Unequaled Access

With Hydraulic Neck Extenders, and 7 drop-down panels, swing-out emergency exits, easy pour-on access, and split bottom access doors on both sides, The Colonel gives you safe, easy access where you need it most.
See what Others Have to Say
Want more information?
Contact Arrowquip
Product Specifications
Massive 5/8 plate top gussets and 3/8 plate and bottom gussets
Canvas blinders for operator comfort when working with squeeze fully open
Head gate and tail gate with heavy-duty rollers, custom cylinders and linkages to control speed
Squeeze track constructed of 4" x 4" .188w rectangular tubing
Head gate track built with 5/16" plate steel for enhanced strength
bber cushions on the head gate help eliminate bruising
3E Head Gate and Tail Gate allow cattle to see more light for better flow
Steel floor pans topped with highly durable, true rubber infinity floor
Hydraulic controls mounted on the pivoting swing arm
All parts that may wear are easily replaceable and bolt-on
Strong, durable curtain-style doors
Swing-out emergency exit, double latch for security
Torsion bar to prevent warping of lower squeeze frame
Split bottom access gates
Enhanced fork targets for hanging pour-on, etc.
Added height with rear drop-down access panels for preg-checking, castrating, vet access, etc.
7 drop-down access panels on each side
Available Add-Ons / Options
Contact Arrowquip
Thank you for your interest in Arrowquip! Fill out the short form below and someone from our team will contact you within one business day. In the meantime, you can also check out our FAQ section.
Product Reviews