Guardian Cattle Mineral Feeder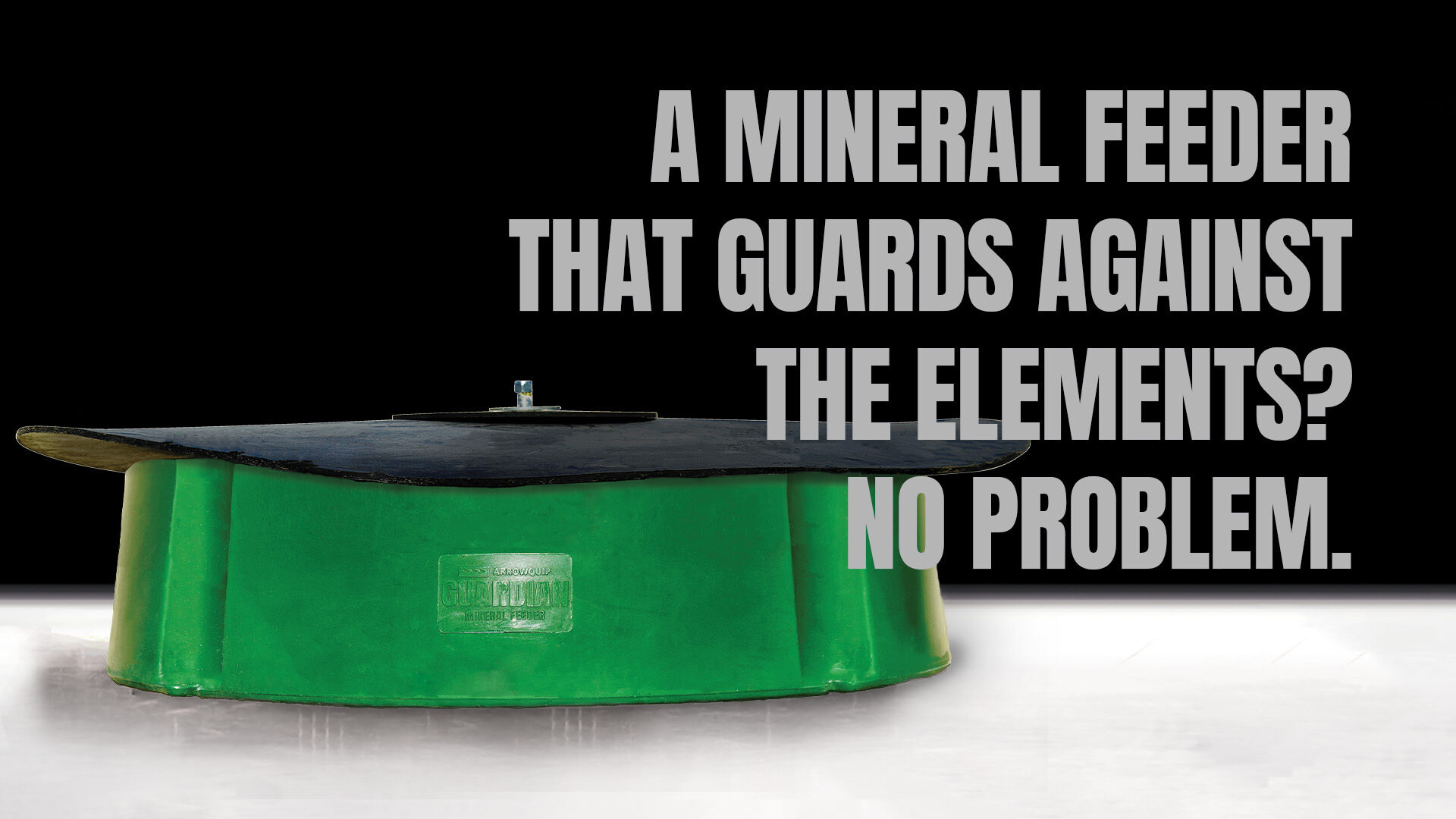 Introducing Arrowquip's Guardian Cattle Mineral Feeder. From Arrowquip's Livestock Feeding Solutions comes a heavy-duty, durable, and weatherproof mineral feeder for cattle, designed to reduce waste. Built from premium quality plastic, these feeders are made to stand the test of time, the elements, and the pushiest cattle.
Featuring three deep compartments surrounded by 6" high walls, exterior anchor points to keep the cattle mineral feeder in place, and a weatherproof cover to keep out wind and rain. Never again deal with wasted mineral or salt. Accommodates loose or block mineral and salt.
Fill out this form to receive your Mineral Feeder brochure:
Product Features
Weatherproof Cover

Made to withstand wind, rain, snow, pushy cattle, and anything else Mother Nature can throw at it. This cattle mineral feeder features a bolt-on durable cover resistant to UV rays and below-zero temperatures.

High-Quality Construction

Constructed with the highest quality premium plastic and built to withstand cattle and the elements. Paired with three anchor points, cattle can't push this mineral feeder around. Having destroyed feeders and wasted mineral and salt is no longer a problem.

Minimize Cattle Mineral Feeder Waste

With 6" deep compartments, a weatherproof cover, and heavy-duty, low-profile construction, your salt and mineral are guarded against the elements and the pushiest cattle. This leads to less waste and more money in your pocket.

Three Compartments

Feed salt and mineral together with three deep, individual compartments that give several cattle access to the mineral feeder at once.
See what Others Have to Say
Want more information?
Contact Arrowquip
Product Specifications
Heavy-duty bolt-on weatherproof cover
6" high, durable premium plastic walls
3 individual compartments
Ideal for cow-calf or feedlot-style operations
3 anchor points secure the cattle mineral feeder for added stability
Low-profile prevents cattle pushing or tipping
Capacity of approximately 150 lbs of block or loose salt and mineral
Contact Arrowquip
Thank you for your interest in Arrowquip! Fill out the short form below and someone from our team will contact you within one business day. In the meantime, you can also check out our FAQ section.
Product Reviews