The Heeler C2 Portable Corral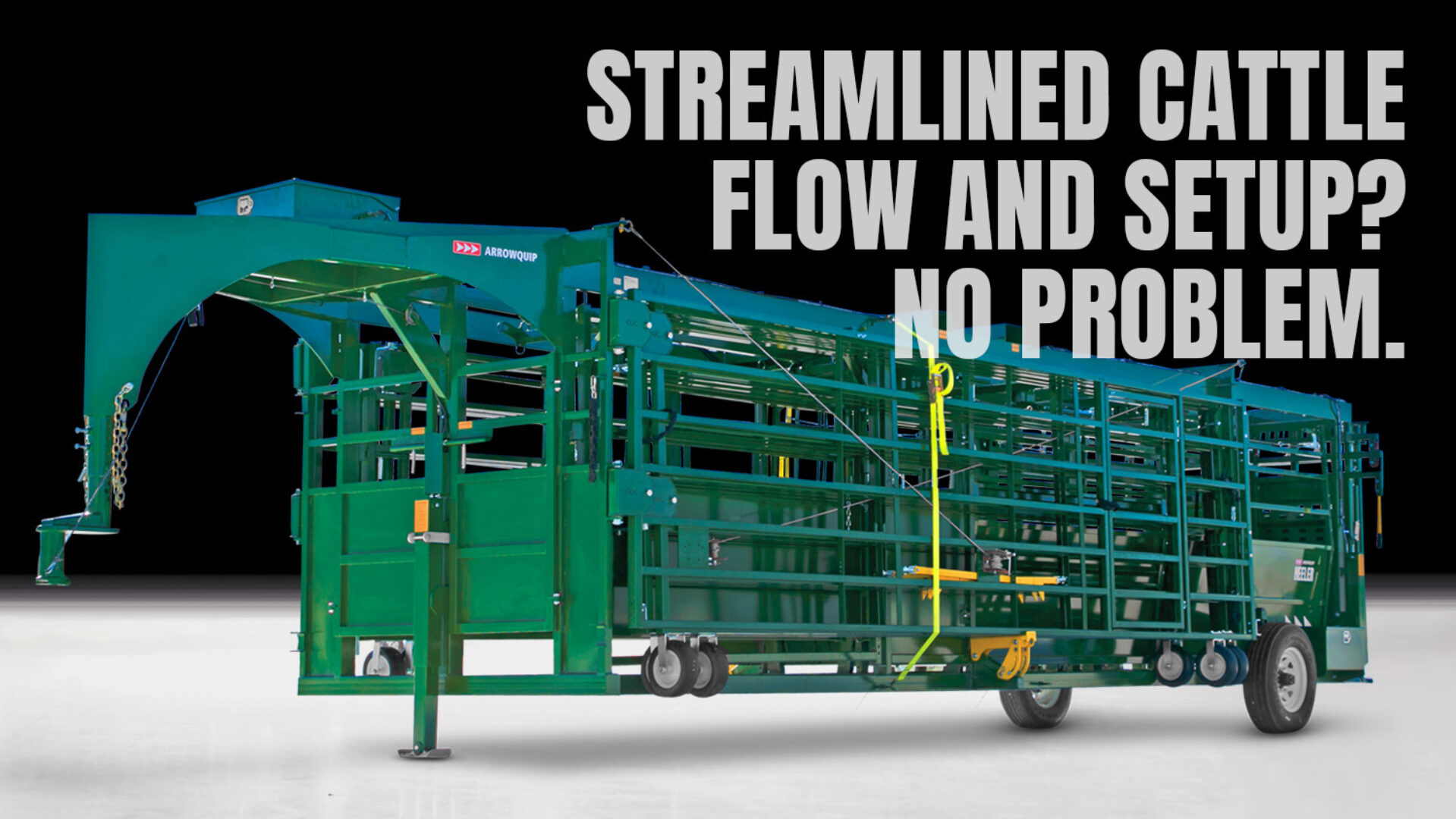 Introducing the Heeler™ C2 - a new, innovative portable cattle corral that will transform your ranching experience for the better. Meticulously crafted from top-grade, North American steel, this portable corral sets the new standard for durability, reliability, and ingenuity.
Designed with effective animal science and ease of use that ranchers have come to know and love with Arrowquip, the Heeler C2 takes cattle flow, safety, and functionality with a portable corral to a whole new level.
With hydraulic jacks, swing-out corral panels with a winch system on airless tires, and a convenient fold-out Bud Box for optimal flow, this corral is a true game-changer. Uniquely flexible Double Easy Flow Adjustable Alleys can convert to a single alley and cattle-free zone with locking swing gates, and optional cattle alley stops prevent your cattle from backing out.
Paired with the ability to carry extra panels, allowing for multiple pen configurations, and a Double Alley Merge for seamless cattle flow from alley to cattle chute, revolutionize your ranching experience with the Heeler C2. Simplify your cattle working experience without compromising reliability. With the Heeler C2, there's no challenge too tough to take on.
Fill out this form to receive your Heeler Portable Corral brochure:
Product Features
Designed for Optimal Cattle Flow

With a standard fold-out Bud Box and locking swing gates, you can control the motion of cattle as they move from the pens and flow forward, exiting through the double alley merge and into a cattle chute. Providing cattle with a clear path is important, and it makes all the difference when it comes to efficiency and flow.

Double Easy Flow Adjustable Cattle Alley

The Heeler C2 Portable Cattle Corral provides ranchers with the option to choose their preferred handling style with an exclusive double set of Easy Flow Adjustable Alleys. Want to work closer with your cattle? The alley also features locking swing gates to turn the double alley into a single alley and cattle-free zone, keeping you safely separated from cattle while allowing you to work with them using their flight zones.

Corral Set Up - Simplified

Tired of the hassle that comes with setting up a portable corral? With The Heeler C2, you never have to worry about that again. With a patented hydraulic jacking system that lifts and lowers the corral with ease, and swing-out corral panels on airless tires with an added winch system, setup and tear down are complete in a matter of minutes.

Pair with Your Loading Ramp or Cattle Chute of Choice

Need to tend to your cattle or load them into a trailer? The Heeler C2 Portable Corral includes panel clips at on the double alley merge that allow you to connect easily to a cattle chute, chute and alley duo, or loading ramp. With the ability to easily carry extra panels and an added hitch for towing, you can haul your entire system at once.
See what Others Have to Say
Want more information?
Contact Arrowquip
Product Specifications
5-Year Warranty
Towing Dimensions: 100" Wide x 108" High x 430" Long (with wheels and hitch)
Added fifth-wheel hitch clearance for a safe and easy pass through
Frame constructed with 4" x 4" beams and 2" x 6" tubing
Exclusive Double Easy Flow Adjustable Alley
Optional Cattle Alley Stops
Unique Double Alley Merge
Standard fold-out Bud Box provides added control of cattle flow
Carry extra panels with convenient holders in the double alley
Multiple configurations with added panel clips
Ability to create a cattle-free zone and single alley with locking swing gates
Front access doors for more accessibility, additional sorting options
Spring-loaded man gates placed strategically on the panels closest to the core of the corral
Swing-out panels on airless tires with a winch system
Panels built with 1.5" x 1.5" .100"w steel tubing
Each panel features two interlocking stays for added strength
Panels hinge off the frame in sets of three, six on each side, and easily fold for transport
Added panel shelf to securely hold panels during transport
Added hitch at the back to tow a cattle chute or loading ramp
Lights included standard to haul at any time of day or night
Available Add-Ons / Options
Contact Arrowquip
Thank you for your interest in Arrowquip! Fill out the short form below and someone from our team will contact you within one business day. In the meantime, you can also check out our FAQ section.
Product Reviews