The Heeler 87C Portable Corral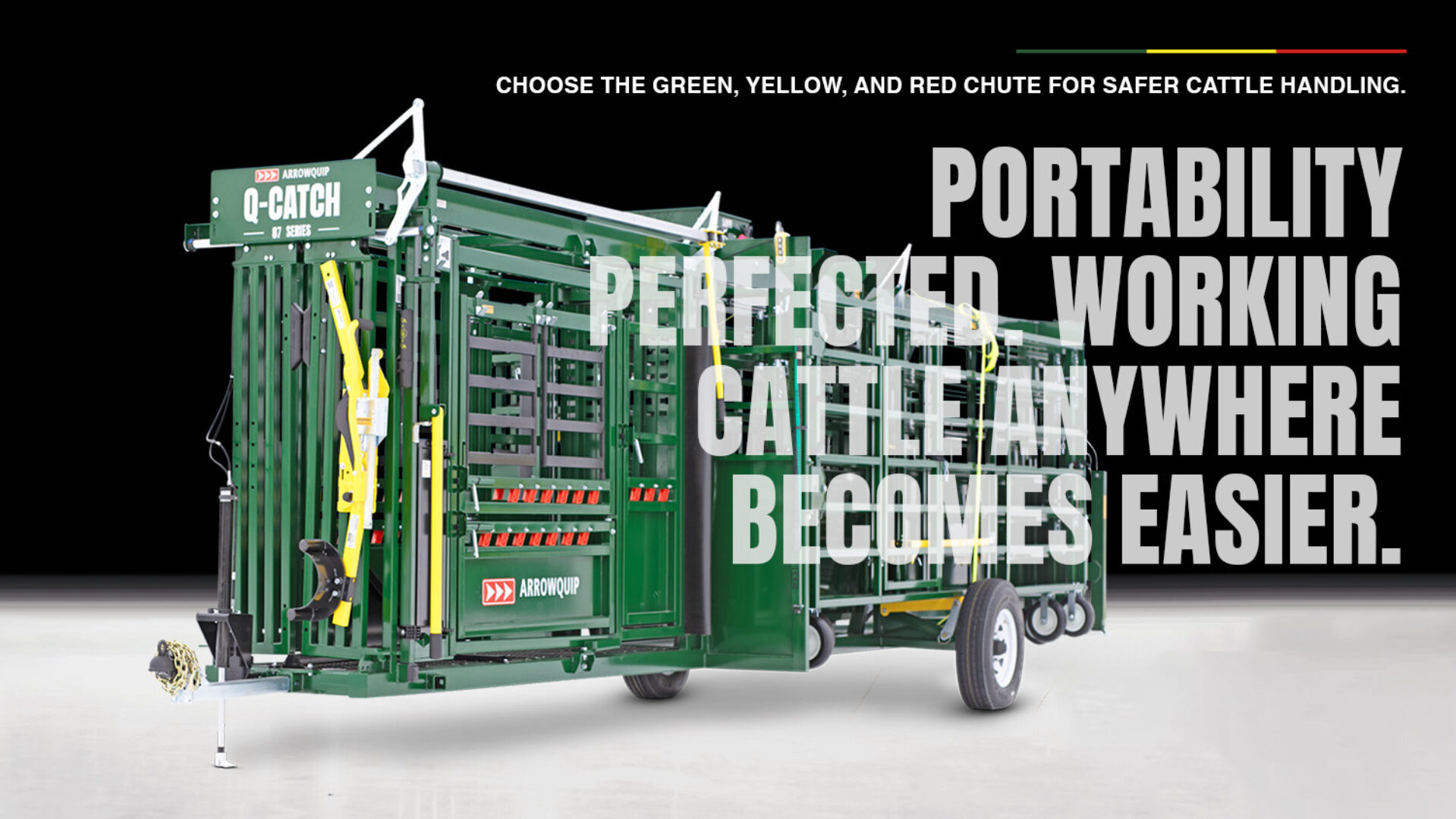 Presenting a revolution in cattle management unlike any other available on the market, the all-new Heeler™ 87C, the industry's leading all-in-one portable corral, chute and alley system.
The Heeler 87C combines three of Arrowquip's top-performing cattle-handling components into one convenient portable working system. Engineered with high-quality durability you can trust, the Heeler 87C is the solution for ranchers searching for a better way to work cattle, no matter if they're home, on the ranch, or out at pasture.
From the pens, through the alley, and into the cattle chute, this unit is designed with the ease of use, animal science, and cattle flow you've come to love and expect. Featuring hydraulic jacks, a fold-out Bud Box, a swing-out corral panel system, an 8' Easy Flow Adjustable Cattle Alley section, and the Q-Catch 87 Series manual cattle chute at the front.
Never again deal with having to choose which equipment you haul to pasture when you can have a portable corral system that does it all. The Heeler 87C portable corral is your all-in-one cattle handling solution anytime, and anywhere. This is next-level cattle handling.
Fill out this form to receive your Heeler 87C Corral brochure:
Product Features
Built for Cattle Flow

A common problem ranchers experience with portable corral systems is getting good cattle flow. With the Heeler 87C Manual Portable Corral, the fold-out Bud Box and rolling alley gates allow you to control the movement of cattle as they flow from pens, into the alley, and through the chute.

Easy Flow Adjustable Cattle Alley

While some portable corral systems on the market have alleys, one big feature that has always been missing is alley adjustability. The Easy Flow Adjustable Cattle Alley comes with two removable panels so you can control cattle's line of sight for better flow. With a cradle shape and adjustments from 18-30", you'll never have to deal with calves turning around. Your cattle will flow smoothly from start to finish.

Streamlined Set Up

Setting up a portable corral can be a long and demanding task, leaving you tired before the real work has even begun. With hydraulic jacks and swing-out panels on airless tires with a winch system, set up and tear down are complete quickly and effortlessly in minutes, so you can focus on the job at hand

Q-Catch 87 Series Cattle Chute

With the Heeler 87C cattle chute at the front of this unit, you get quick, quiet, and quality cattle handling with every animal you work. There's no need to worry about safety or efficiency with the world's quietest manual chute at your side.
See what Others Have to Say
Want more information?
Contact Arrowquip
Product Specifications
5-year Warranty
8' Easy Flow Alley section adjustable from 18-30"
Two pens totaling approximately 2,646 square feet of working space
4 spring-loaded man gates placed strategically along the panels for access near the Bud Box and to easily move from pen to pen
Removeable alley blinder panels to control cattle's sight lines
Lights included standard to haul at any time of day or night
Total towing length under 32 feet
Fold-out Bud Box provides added control of cattle flow
Two integrated rolling doors at each end of the alley
Frame constructed with 4" x 4" beams and 2" x 6" tubing
Swing out panels on airless tires with a winch system
Panels built with 1.5" x 1.5" .100"w steel tubing
Each panel features two interlocking stays for added strength
Panels hinge off the frame in sets of four, eight on each side, and easily fold for transport
Barred head gate design uses light to draw cattle into the chute
Q-Catch head gate operation handle can be situated anywhere along the side of the chute
Curtain-style head gate opens to a full 30" top to bottom for cattle to exit the chute
Easy to use push-pull lever
Squeeze ranges from 31.5" fully open to 9.75" fully closed
The Q-Catch squeeze locking system features a dual friction lock with infinite adjustments
Direct Drive system provides faster head gate response
Poly-coated slam latches and pivot points eliminate metal clanging
Two rows of rump fingers ensure safety no matter the size of the animal
Poly-composite rump fingers are engineered to endure high-pressure
Ambidextrous rolling door that can be operated from either side of the chute and is reversible
The rolling door running track is top-mounted, eliminating the issue of build-up
Vet door opens in both directions for a full 180° of maneuverability
Low-profile latch ensures the vet cage door will not swing to the inside of the chute when slammed shut
Swing-out top and bottom access doors can be used individually or together to access the entire animal
Side access panels are removable and can be configured in a variety of positions to suit your operation's needs
12.75" top to bottom needle door access with drop-down
True virgin rubber flooring dampens sound and provides great traction
Rubber floor is backed by a lifetime guarantee
Head Gate locking pin adds safety for transport
Safety latches on the Easy Flow Alley side panels add security and control when adjusting, and ensure the sides will not drop accidentally
Both side panels drop down fully, allowing the handler to access the animal in case of emergency
Available Add-Ons / Options
Contact Arrowquip
Thank you for your interest in Arrowquip! Fill out the short form below and someone from our team will contact you within one business day. In the meantime, you can also check out our FAQ section.
Product Reviews