The Major Heavy Duty Squeeze Chute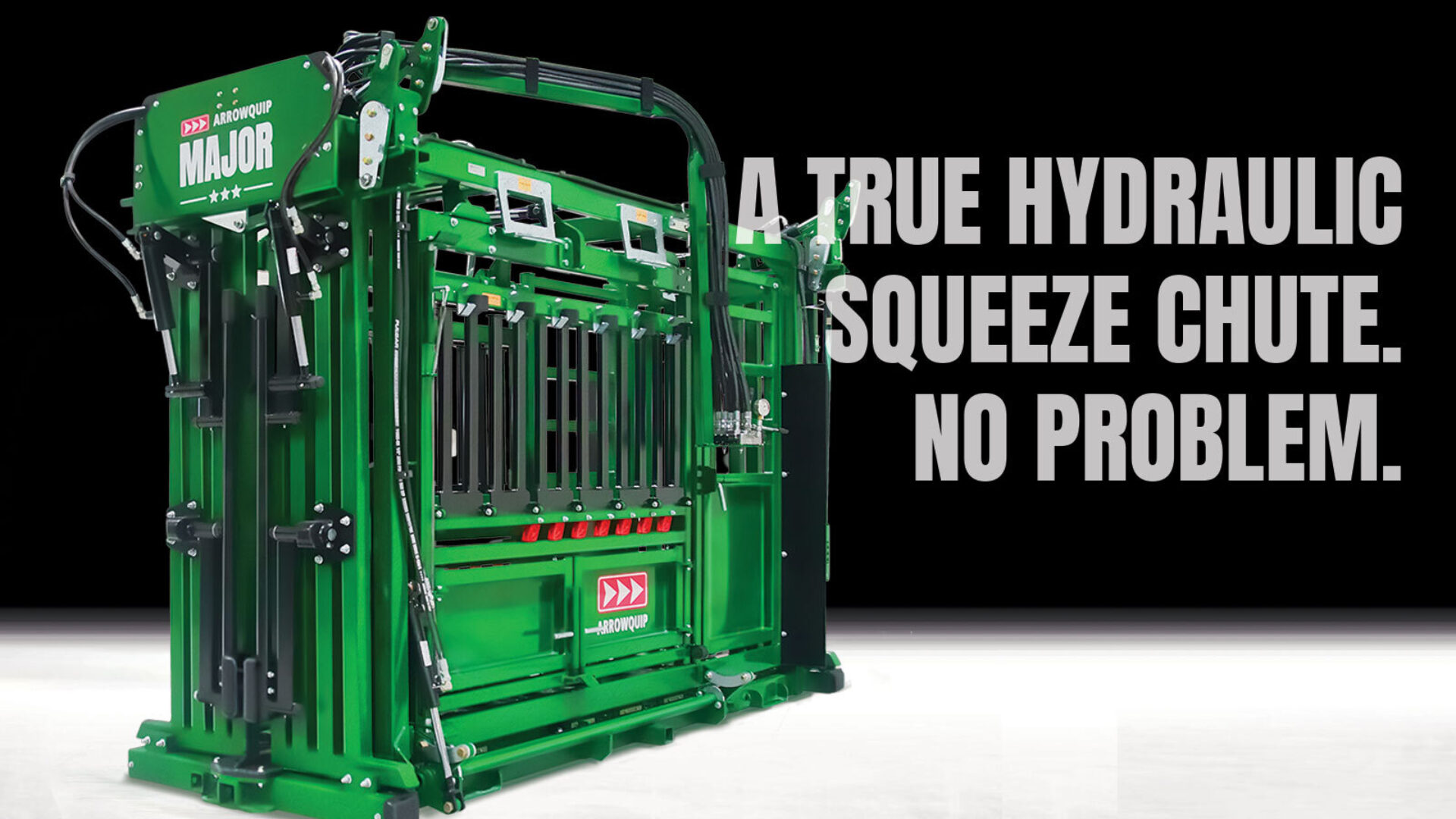 For veterinarians and on large-scale and feedlot cattle operations, we know and understand that the stakes are high. Time, safety, and efficiency are your top priorities, and you need a chute that is in it for the long haul and does it all with no compromises. Arrowquip is pleased to introduce The Major, a true heavy-duty hydraulic squeeze chute.
Every inch of this chute is crafted with large-scale cattle operations in mind to make work faster, safer, and easier. By incorporating animal science and multiple quiet points into the design, processing cattle is as efficient as possible to benefit the animals, handlers, and above all else, your bottom line.
We also incorporated easy-to-replace parts that any mechanically inclined hand or rancher can complete. With parts readily available in stock and a 24/7 Client Care Team that works to ship your parts in as little as 24-hours, you'll never have to worry about down equipment ever again. Stay focused on managing your operation, not your equipment.
With high-quality, heavy-duty construction, unbeatable access, and a unique 3-way floating squeeze and live floor, The Major will boost productivity on your operation for years to come.
The Major is ready to serve.
ARE YOU A FEEDLOT?
For more information on how The Major heavy-duty hydraulic chute can improve your operation, visit us at Operation Arrowquip.
Fill out this form to receive your brochure:
Product Features
Enhanced Wheel Kit

Take your chute anywhere, anytime with our new, enhanced wheel kit. With a winch system that raises and lowers the chute in 16 turns or less, you can quickly and easily hook up your chute and head out to get the job done.

Three Ways to Work for Better Cattle Flow

The Major features a unique 3-way squeeze functionality and live floor, first seen with The General. Select parallel squeeze for the best flow from alley to chute, A-squeeze for rowdy or nervous livestock, and V-squeeze to help support cattle, keep them upright, and accommodate larger animals.

Unrivaled Access

When you're running cattle of different sizes and temperaments, you need full access to get the job done as accurately and quickly as possible. With 6 drop-down bars, split bottom access gates, and emergency exit doors on each side, processing cattle is more efficient than ever.

The Best Head Control with Hydraulic Neck Extenders

Get the best head control and access with hydraulic neck extenders. By gently stretching the animal's neck forward and keeping their head still, treating, tagging and vaccinating are complete in seconds, so you can move on to the next task.
See what Others Have to Say
Want more information?
Contact Arrowquip
Product Specifications
Massive 5/8 plate top gussets, 3/8 plate bottom gussets
Head Gate and Tail Gate with heavy-duty rollers, custom cylinders and linkages to control speed
Head Gate track built with 1/4" plate steel for enhanced strength
Rubber Cushions on the Head Gate help eliminate bruising
3E Head Gate and Tail Gate allow cattle to see more light for better flow
Steel floor pans topped with highly durable, true rubber floors
Hydraulic controls mounted on the pivoting swing arm
All parts that may wear are easily replaceable and bolt-on
Strong, durable curtain-style doors
Swing-out emergency exit, double latch for security
Torsion bar to prevent warping of lower squeeze frame
Split bottom access gates
Enhanced fork targets for hanging pour-on, etc.
6 drop-down access panels on each side
XL vet cage
Available Add-Ons / Options
Contact Arrowquip
Thank you for your interest in Arrowquip! Fill out the short form below and someone from our team will contact you within one business day. In the meantime, you can also check out our FAQ section.
Product Reviews