Q-Catch 87 Series Portable Cattle Chute & Alley

Portable Cattle Chute & Alley that is made to move
5
Weight: 3870 lbs.
Dimensions: 58" Wide x 96" High x 265" Long (When set up.)
Product Code: 878
* Head Holder Optional
Full Video Transcript
The new Q-Catch 87 Series Portable Cattle Chute & Alley gives you consistently safe and efficient cattle handling no matter where you're working cattle. From the new electric jacks and 8' Easy Flow Adjustable Cattle Alley section, to the rubber floors you've been asking for, everything on this system has been designed with cattle flow and ease of use for operators in mind. With the new 3E head gate design and Easy Flow Alley removable panels, you can utilize natural cattle behavior to keep your herd flowing in the right direction.
You can do it all with this portable duo, and take your cattle handling system anywhere you need it with ease. This compact system has been redesigned with an improved towing setup to ensure you're in for the smoothest ride possible, every time.
Get Your Q-Catch 87 Series Portable Cattle Chute & Alley Brochure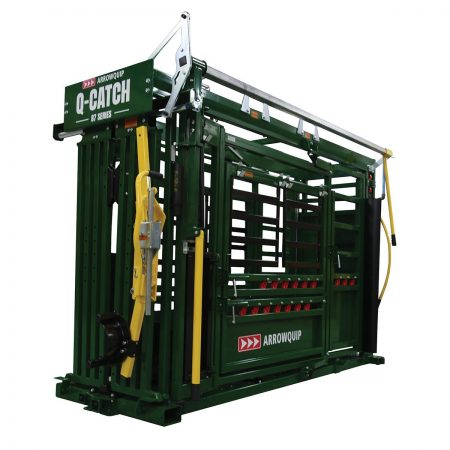 Q-Catch 87 Series Manual Cattle Chute

With the NEW Q-Catch 87 Series at the front of the system, you'll have maximum control, safety, and efficiency even when you're working cattle alone. With the world's quietest manual cattle chute behind you, you're guaranteed a quiet cattle handling experience anytime, anywhere.

Easy Flow Alley

The new and improved Easy Flow Adjustable Cattle Alley now comes with two removable panels that let you decide what your cattle see to improve flow. The alleys narrow down to the center and are cradle-shaped to ensure that your cattle keep moving forward in a smooth, straight line.
Request My Product Demo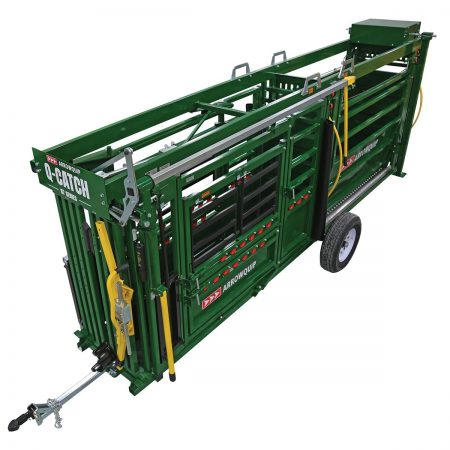 New Electric Jacks [PATENT-PENDING]

The redesigned jack system lifts the unit from the back of the alley with the push of a button. The electric jacks feature a 24V system, powered by two maintenance-free 12V Arrowquip AGM batteries connected in series. The new electric jack system can lift and lower the unit in under two minutes. A secondary bulldog jack at the front of the chute simplifies the process of hooking the unit up to your towing vehicle.

Designed for Portability

The portable cattle chute and alley is designed to be portable. The enhanced frame boasts 2" x 6" beams at the top and 3" x 3" beams at the bottom for structural integrity. Additionally, the improved hitch has an added gusset for support, multiple height options, and the wheels are easily installed and removed with two pins.
Request My Price
Contact Arrowquip
Thank you for your interest in Arrowquip! Fill out the short form below and someone from our team will contact you within one business day. In the meantime, you can also check out our FAQ section.
Q-Catch 87 Series Portable Cattle Chute & Alley Specifications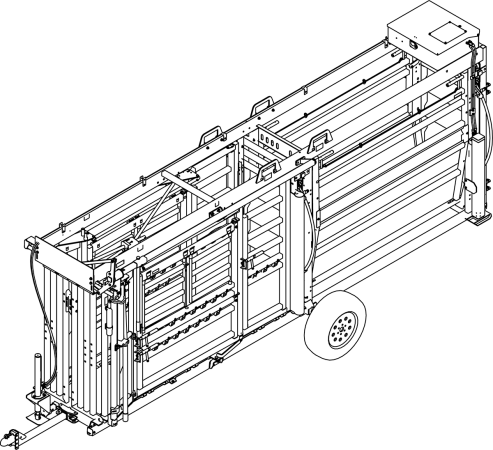 New barred head gate design uses light to draw cattle into the chute
Q-Catch head gate operation handle can be situated anywhere along the side of the chute.
Curtain-style head gate opens to a full 30" top to bottom for cattle to exit the chute
Easy to use push-pull squeeze lever
Squeeze ranges from 29.5" fully open to 7.75" fully closed
The Q-Catch squeeze locking system features a dual friction lock with infinite adjustments
New Direct Drive system provides faster head gate response
Poly-coated slam latches eliminate metal clanging
Two rows of rump fingers ensure safety no matter the size of the animal
Poly-composite rump fingers are engineered to endure high pressure
Ambidextrous rolling door that can be operated from either side of the chute and is reversible
The rolling door running track is top-mounted, eliminating the issue of build-up
Vet door opens in both directions for a full 180° of maneuverability
Low-profile latch ensures the vet cage door will not swing to the inside of the chute when slammed shut
Swing-out top and bottom access doors can be used individually or together to access the entire animal
Side access panels are removable and can be configured in a variety of positions to suit your operation's needs
12.75" top to bottom needle door access
New drop-down needle bar allows for quick injections
Rectangular tubing limits cattle bruising
Pivot and latch points feature poly bushings for silent operation
True virgin rubber flooring dampens sound and provides great traction
Rubber floor is backed by a lifetime guarantee
Head Gate locking pin adds safety when transporting the cattle chute, or completing maintenance
Both sides of the Easy Flow Alley can be adjusted from one side
Cradle-shaped Easy Flow Alley section ranges from 29.5" to 18" in width
Both side panels drop down fully, allowing the handler to access the animal in case of emergency
Safety latches on the Easy Flow Alley side panels add security and control when adjusting, and ensure the sides will not drop accidentally
Easy Flow alleys come with removable panels so you can control what cattle see in the alleyway
Single piece steel frame has been reinforced with new 2"x6" beams that run the length of the unit