Q-Power 104 Series Hydraulic Squeeze Chute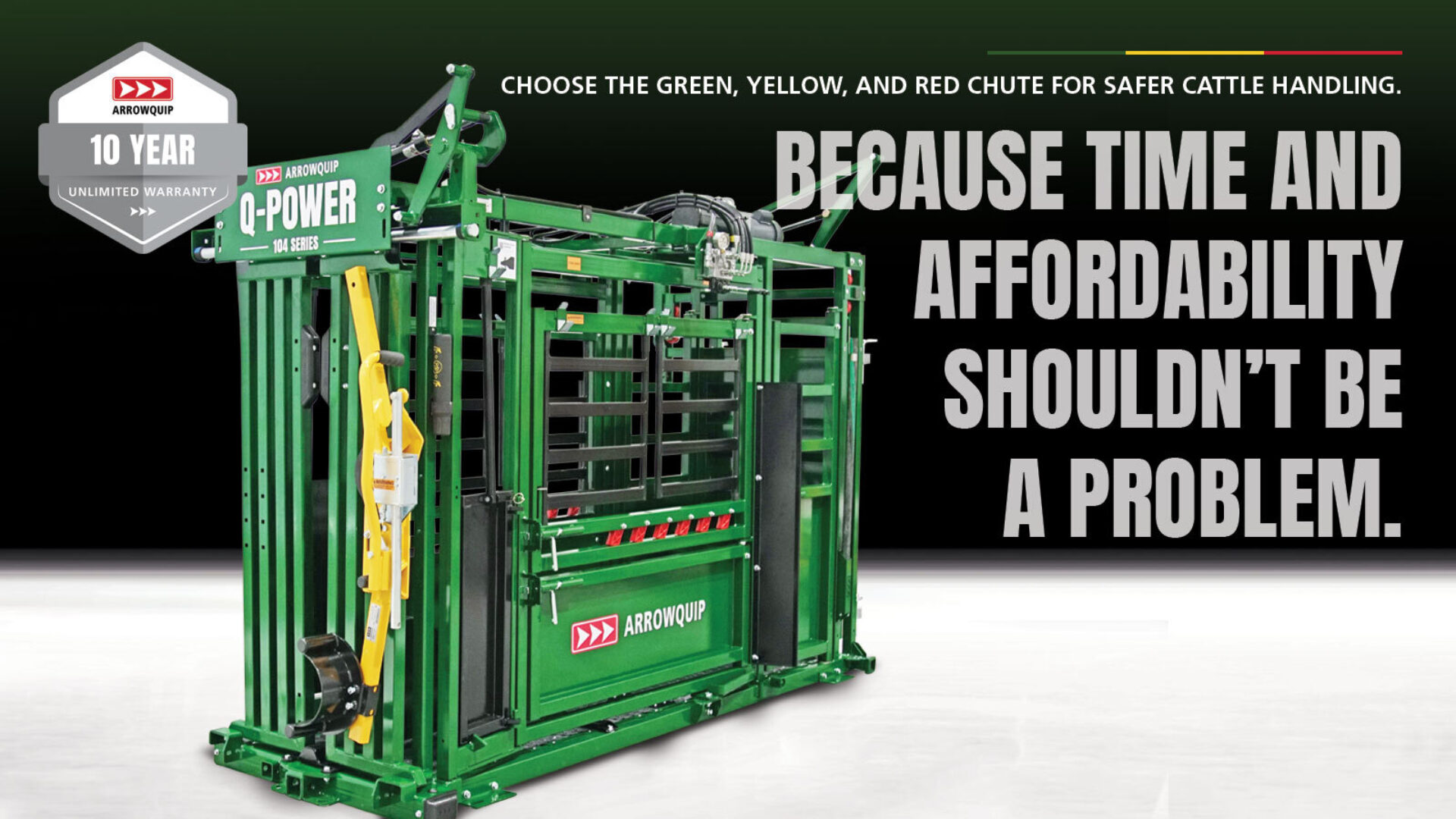 Read Full Video Transcript
Hydraulic cattle squeeze chutes are well-known for the massive increase in productivity they can provide to cattle operations, but often come with high price tags that only large cattle operations can afford. When good help is becoming more and more difficult to find, ranchers need more accessible options to help them boost their productivity and get on to the other tasks at hand.
Enter the Q-Power 104 Series, the hydraulic squeeze chute that any operation can use to boost their productivity and get the job done right every time. Offering all of the access you could possibly need, solid construction, and backed by the best hydraulic squeeze chute warranty available, the Q-Power 104 Series is the only ranch hand you'll ever need.
Based on the needs of your operation, the Q-Power 104 Series is available in two models - the compact and highly cost-effective Standard Model, and the Deluxe Vet Model that includes a palpation cage attached to the chute. The Standard is the only hydraulic squeeze chute in the Arrowquip lineup that comes without the vet cage, making it a great solution for operations where space is limited.
Fill out this form to receive your Q-Power 104 Series brochure:
"Should have done it sooner!" That's what my wife and I have said each time we have used our new model 104, because at the end of the day we are not beat to death from catching cattle with a manual chute.
- John Buford, Rancher -
Product Features
3E Q-Power Head Gate - Easy Entry & Exit

With a unique design that works with cattle psychology to get livestock to move through the squeeze chute with ease, the 3E Q-Power Cattle Head Gate dramatically improves cattle flow through the handling system. Even when the Head Gate is closed, this Arrowquip-Exclusive design uses light to draw cattle into the chute by filtering light in through the Head Gate bars.


Industry-Leading Hydraulic Squeeze Chute Cattle Access

This economical hydraulic chute gives you a total of 18 access points to choose from when working your livestock. Key access points include an improved injection access site, swing-out top and bottom side access doors, removable side access panels, and optional full-sized palpation cage, giving you all the access you need to work your cattle.

Practical Cattle Handling With A Hydraulic Power Boost

The Q-Power 104 Series gives you the power you need to work more cattle through the chute, even when you are working solo. With top-mounted hydraulic controls that allow the handler to open or close the Head Gate, Squeeze, and Hydraulic Rolling Door in under 0.74 seconds, processing is faster than ever.

The 400 Series line of chutes provide a practical cattle handling experience without compromising safety, quality, or efficiency.

Longest Hydraulic Cattle Chute Warranty & Industry-Leading Customer Service

With the Q-Power 104 Series, there are no "What ifs?". This economical hydraulic squeeze chute comes with a 10-Year Warranty on all parts, including the hydraulics, and lifetime warranty on the poly-composite rump fingers and locking mechanisms.

The team of Client Care Specialists at Arrowquip are dedicated to supporting customers with their equipment every step of the way. Whether you have a problem with your product, need maintenance information, would like to submit a warranty claim, have misplaced your manual, or have another issue you need support for, you can reach out to their team any time for assistance.
See what Others Have to Say
Want more information?
Contact Arrowquip
Product Specifications
10-Year Hydraulic Chute Warranty
Curtain-style Head Gate opens to 30" from top to bottom
Squeeze ranges from 29.5" fully open to 7.75" fully closed
Poly composite rump fingers are engineered to endure high pressure and safely contain livestock
Fiberglass rump bar included standard
12.75" neck injection area with drop-down bar for easy injections
Side access panels can be configured in 7 positions or removed completely
Swing-out top and bottom access doors can be used individually or together
True rubber floor provides great traction for cattle
Mount brackets standard
Available Models
Model: Deluxe Vet

Weight: 1995 lbs.

Dimensions: 59.8" w x 95" h x 135" l

If you're running a cow-calf operation, the Deluxe Vet model is the best Q-Power 104 Series for your needs. The Deluxe Vet has a stationary palpation cage attached to the chute, providing a safe area to preg check cattle, do AI, and more.

Model: Standard

Weight: 1730 lbs.

Dimensions: 59.8" w x 95" h x 103.7" l

Looking for a simple hydraulic chute that will boost your productivity without breaking the bank? The Q-Power 104 Series Standard model is exactly what you need. Save your back and your time with this simple and effective hydraulic squeeze chute that offers a hydraulically operated rolling door, impressive access, and a compact size that can fit in any operation.
Available Add-Ons / Options
Contact Arrowquip
Thank you for your interest in Arrowquip! Fill out the short form below and someone from our team will contact you within one business day. In the meantime, you can also check out our FAQ section.
Product Reviews