Q-Power 107 Series Cattle Chute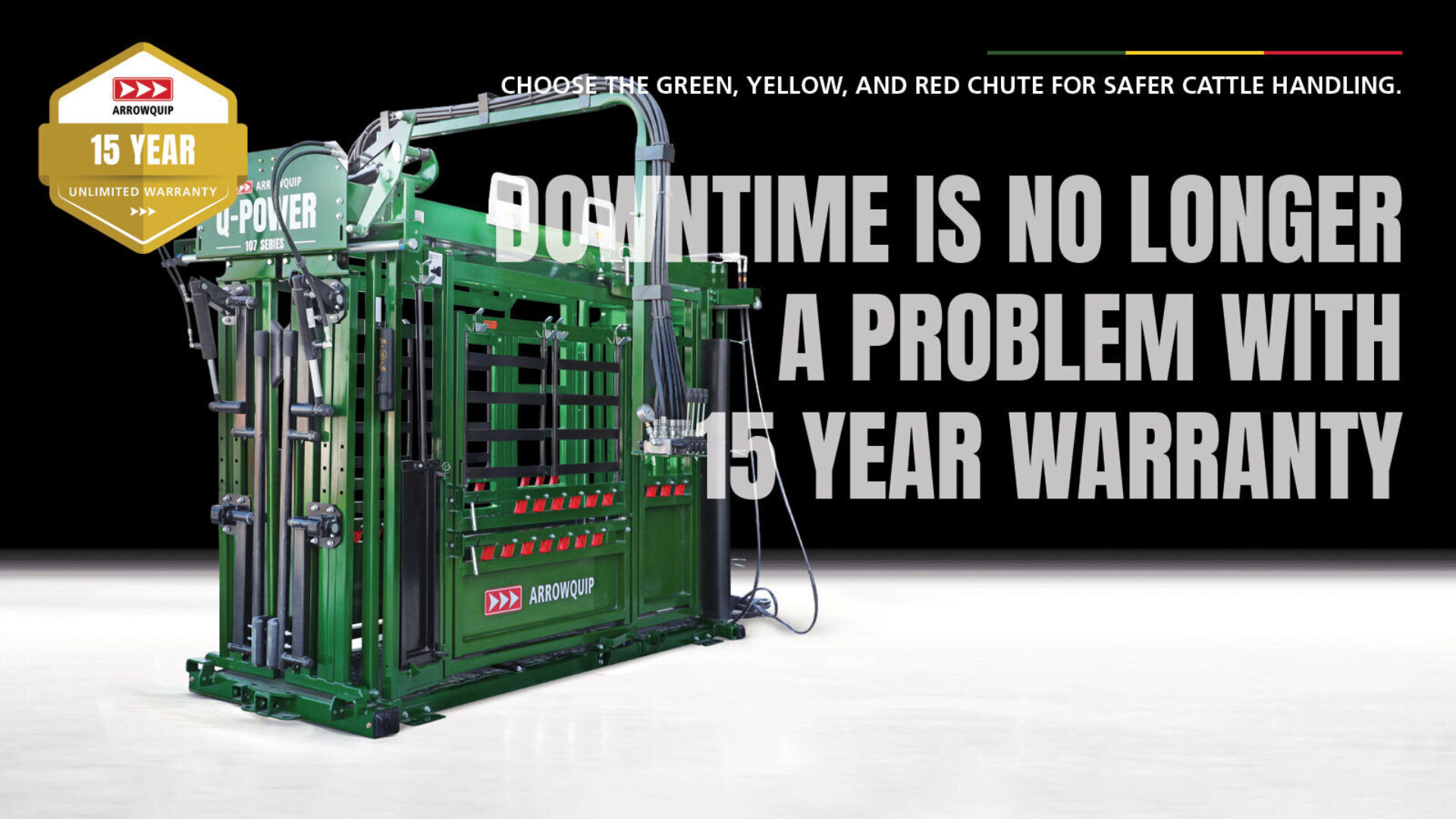 * Neck Extenders Optional
Read Full Video Transcript
The Q-Power 107 Series hydraulic cattle chute isn't just called "silent" for the sake of it. The chute has been completely overhauled to provide a calm, quiet cattle handling experience. With superior fast-response hydraulics and precision engineering, the Q-Power delivers the performance and reliability you need to get your work done in half the time.
The 107 delivers a virtually silent cattle handling experience with over 107 quiet points from front-to-back. Every inch of the chute has been optimized with new features that include poly coated slam latches, nylon head gate rollers, and additional poly bushings to eliminate metal on metal contact and minimize noise at every turn.

For enhanced durability, our team of engineers have reinforced the structural frame to now include the massive 2" x 6" and 3" x 3" beams seen on our portable units. Paired with upgrades to the hydraulic cylinders and connections for faster response with the lightest touch of the controls, so you can trust that your chute will perform reliably under any conditions.

No matter what type of operation you're running - cow-calf, backgrounding, or finishing - the Q-Power 107 Series provides the power and reliability you need day-in, and day-out to take your operation to a new level of processing efficiency.
Fill out this form to receive your Q-Power 107 Series Hydraulic Cattle Chute brochure:
The new swing arm that lets you operate it from both sides is slick. Got the bigger electric motor and it moves fast. Cattle flow through it easy. The access on this chute is top notch. I would never go buy a silencer over this.
- Hans Hennings, Rancher -
Product Features
3E Q-Power Head & Tail Gates - Easy Entry & Exit Technology

The Q-Power Head and Tail Gates use natural cattle behavior to get cattle to move through the chute more easily with a unique barred style. Arrowquip-exclusive 3E Head and Tail Gate technology can be seen on all of our squeeze chute models, and is used to obtain Easy Entry and Exit for livestock in the chute. The barred Head and Tail Gate allow cattle to see light and open space at the end of the chute, drawing them towards the Head Gate with minimal handler intervention and dramatically reducing processing delays.

Superior Fast Response Hydraulics

The fast-touch hydraulics provide superior cattle control with improved cylinders and hydraulic connections for faster response times that enable producers to catch even the rowdiest livestock.

All hydraulic controls are mounted on the wide-range pivoting swing arm that can be operated at any point along both sides of the cattle chute without any adjustments.

For added power, choose the Stealth Power Pack upgrade that allows you to operate the head and tail gates simultaneously to further improve your processing speed.

Silent Cattle Handling Redefined

It is a well-known fact that noise is a significant stressor for cattle, and can dramatically increase their anxiety when being handled. The Q-Power 107 Series takes quiet cattle handling to the next level with 107 quiet points throughout the chute for the quietest cattle handling experience possible. Pair the quietest hydraulic chute on the market with the Stealth Power Pack for a virtually silent cattle handling experience across the board.

Unmatched Hydraulic Cattle Chute Warranty and Customer Service

The Q-Power 107 Series is backed by an industry-leading 15-Year Warranty on all parts, including the hydraulics. Additional lifetime warranty applies to the rubber floors, rump fingers, and all locking mechanisms.

Arrowquip employs a team of dedicated Client Care Specialists who are ready and waiting to support customers throughout their journey with Arrowquip. If you ever have a problem with your product, need maintenance information, would like to request warranty parts, misplace your manual, or any other issue, you can reach out to their team of experts for support.
See what Others Have to Say
Want more information?
Contact Arrowquip
Product Specifications
15-Year Hydraulic Cattle Chute Warranty
Curtain-style Head and Tail Gates open to 30" top to bottom
Squeeze ranges from 29.5" fully open to 7.75" fully closed
Two rows of poly-composite rump fingers are engineered to endure high pressure and contain cattle safely
Fiberglass rump bar included standard
12.75" neck injection area with drop-down bar for easy injections
Side access panels can be configured in 7 positions or removed completely
Swing-out top and bottom access doors can be used individually or together
Side doors and swing arm require 56" clearance on each side of the chute
True rubber floor provides great traction for cattle
Mount brackets standard

Available Add-Ons / Options
Contact Arrowquip
Thank you for your interest in Arrowquip! Fill out the short form below and someone from our team will contact you within one business day. In the meantime, you can also check out our FAQ section.
Product Reviews