Q-Catch 74 Series Squeeze Chute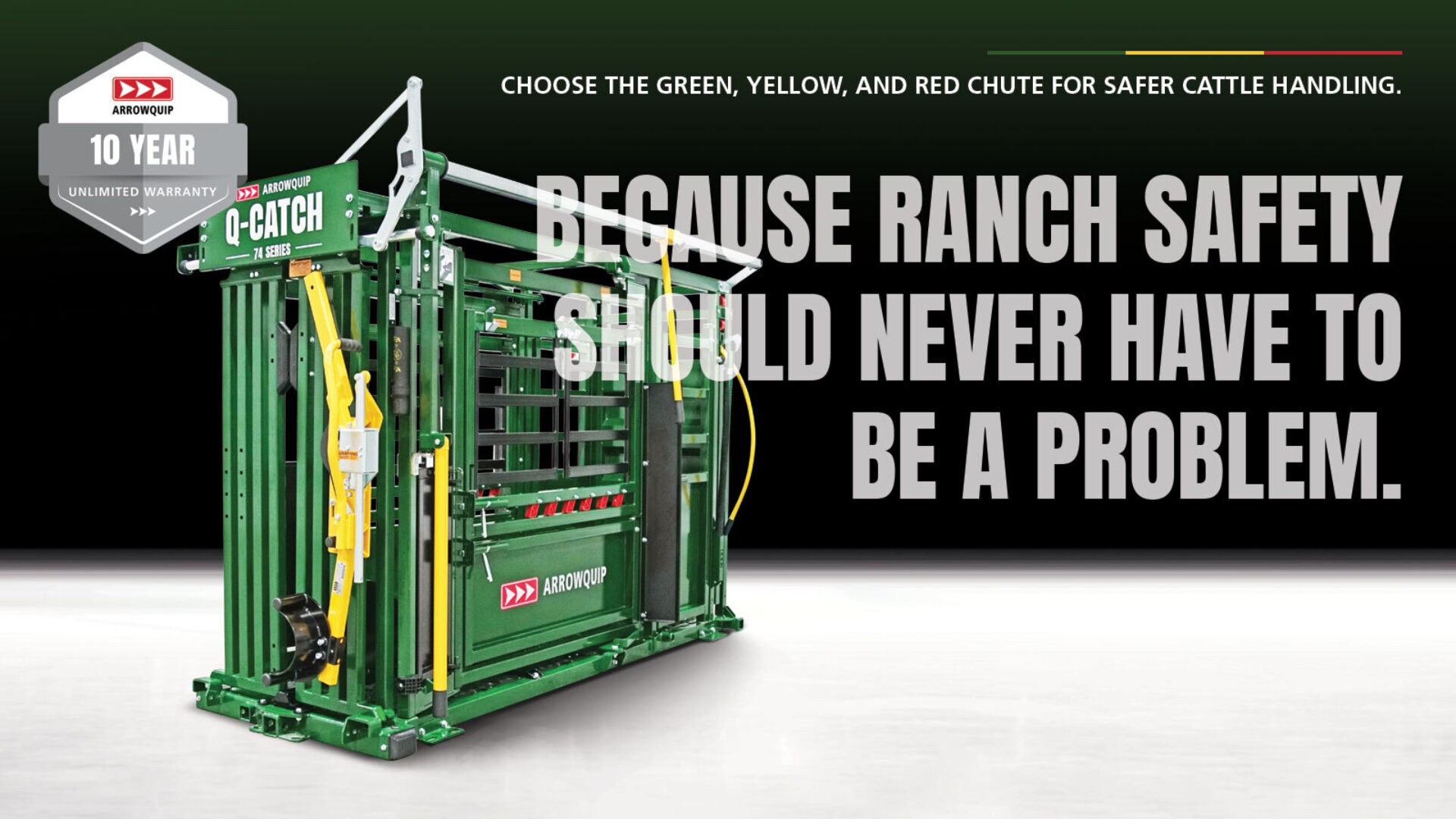 Read Full Video Transcript
The Q-Catch 74 Series is a squeeze chute designed for the practical rancher. Your time is valuable, and you need a chute that will get the job done right every time.
The Q-Catch 74 Series is an efficient and economical chute that makes managing cattle easier on you. With features inspired by the world-famous Q-Catch 87 Series, you know you are getting a chute you can trust. Key elements include our auto-locking mechanisms and durable, virgin rubber floor with a lifetime guarantee, unmatched access points, and user-friendly operation handles. All of this is backed by our exclusive 10-Year Warranty and crafted with the high-quality construction only Arrowquip can provide. So you can be confident your equipment is made to stand the test of time (and cattle!).
You can have it all with the Q-Catch 74 Series. Get ready to boost the efficiency of your operation today, tomorrow, and for years to come.

Fill out this form to receive your brochure:
I have used many different chutes over the years and the Arrowquip is by far the safest, most versatile, and most efficient. I was able to work anything from 130lb calves to 2200lb bulls, without making any adjustments or pulling pins like other chutes require. It provides the most access to the animal of any chute I've used.
- Colby Sexton, Rancher -
Product Features
3E Q-Catch Cattle Head Gate [PATENT-PENDING]

With a design that works with cattle psychology, rather than against it, the NEW 3E Cattle Head Gate gets cattle to enter the squeeze chute without putting up a fight. Even when the gate is closed the bars allow cattle to see light and draws them towards it, giving you a more hands-off cattle handling experience. Add the Q-Catch handle that is easy to operate from any point, and you are set up for proper cattle flow every time.

Unparalleled Access

The 74 Series gives you all the access points you need to work your cattle effectively. From the NEW needle door with drop-down bar, top and bottom side doors that offer full side access, added configuration options for the removable access panels. The Deluxe Model also features a full-size vet cage with improved head clearance, so your animals are fully accessible.

Exclusive 10 Year Warranty

We believe in the quality of our equipment. That's why we back ALL Arrowquip manual squeeze chutes with the LONGEST WARRANTY ever seen in the cattle equipment industry. Our 10-Year Warranty means that we have your back, to keep you working your cattle safer, easier, and faster every day. Additionally, all locking mechanisms, rubber floor, and rump fingers are backed by a lifetime guarantee.

Cattle Chute Floor

Our true virgin rubber floor, not rumber like other flooring types on the market, dampens sound for a quiet cattle handling experience. Much softer than other options, the rubber is made for long-term durability and provides great traction for hooves, giving cattle the confidence to walk through the chute with ease.
Q-Catch 74 Series Squeeze Chute Video Testimonials
See what Others Have to Say
Want more information?
Contact Arrowquip
Product Specifications
10-year cattle chute warranty
Unique barred design uses light to draw cattle towards the head gate
Q-Catch operation handle can be situated anywhere along the side of the chute
Curtain-style head gate opens to a full 30" top to bottom
Easy to use push-pull squeeze lever
Squeeze ranges from 29.5" fully open to 7.75" fully closed
The squeeze features a dual friction lock with infinite adjustments
New Direct Drive system provides faster and more reliable head gate response
Rump fingers ensure safety no matter the size of the animal
Poly-composite rump fingers are engineered to endure high pressure
Ambidextrous rolling door that can be operated from either side of your handling system and is reversible
The rolling door running track is top-mounted, eliminating the issue of build-up
Vet door opens in both directions for a full 180° of maneuverability (Deluxe Vet only)
Low-profile latch ensures the vet cage door will not swing to the inside of the chute when slammed shut (Deluxe Vet only)
Swing-out top and bottom access doors can be used individually or together to access the entire animal
Side access panels are removable and can be configured in a variety of positions depending on the tasks of the day
12.75" top to bottom needle door access
New drop-down needle bar allows for quick injections
Rectangular tubing limits cattle bruising
Pivot and latch points feature poly bushings for silent operation
True rubber floor provides great traction for cattle
Mount brackets are included so you can add load bars or secure the chute to concrete
Transport-ready with the new wheel kit add-on
Locking pin allows you to secure the head gate for transportation or maintenance
---
Need Help with your Q-Catch 74 Series Cattle Chute? (Link will take you to YouTube)
Available Models
Model: Deluxe Vet

Weight: 1900 lbs.

Dimensions: 55.8" Wide x 95" High x 129.3" Long

If you want all of the features at a lower price point, the Q-Catch 74 Series Deluxe Vet Model is the ideal solution. This option includes a stationary full-length palpation cage at the back, head gate operation handle that can be used at any point along the side of the chute, and the capability to handle cattle of any size. With all of these features and more, the Q-Catch 74 Series is leagues ahead of the competition, giving you the tools you need to get the job done right.

Model: Standard

Weight: 1680 lbs.

Dimensions: 55.8" Wide x 95" High x 102.6" Long

Don't need the vet cage? No problem! The Q-Catch 74 Series Standard Model is just what you need. Including many of the impressive features seen on the Deluxe Vet, such as full side access and the new drop-down needle bar, the Standard Model is anything but ordinary.
Available Add-Ons / Options
Contact Arrowquip
Thank you for your interest in Arrowquip! Fill out the short form below and someone from our team will contact you within one business day. In the meantime, you can also check out our FAQ section.
Product Reviews