Cattle Corral Panels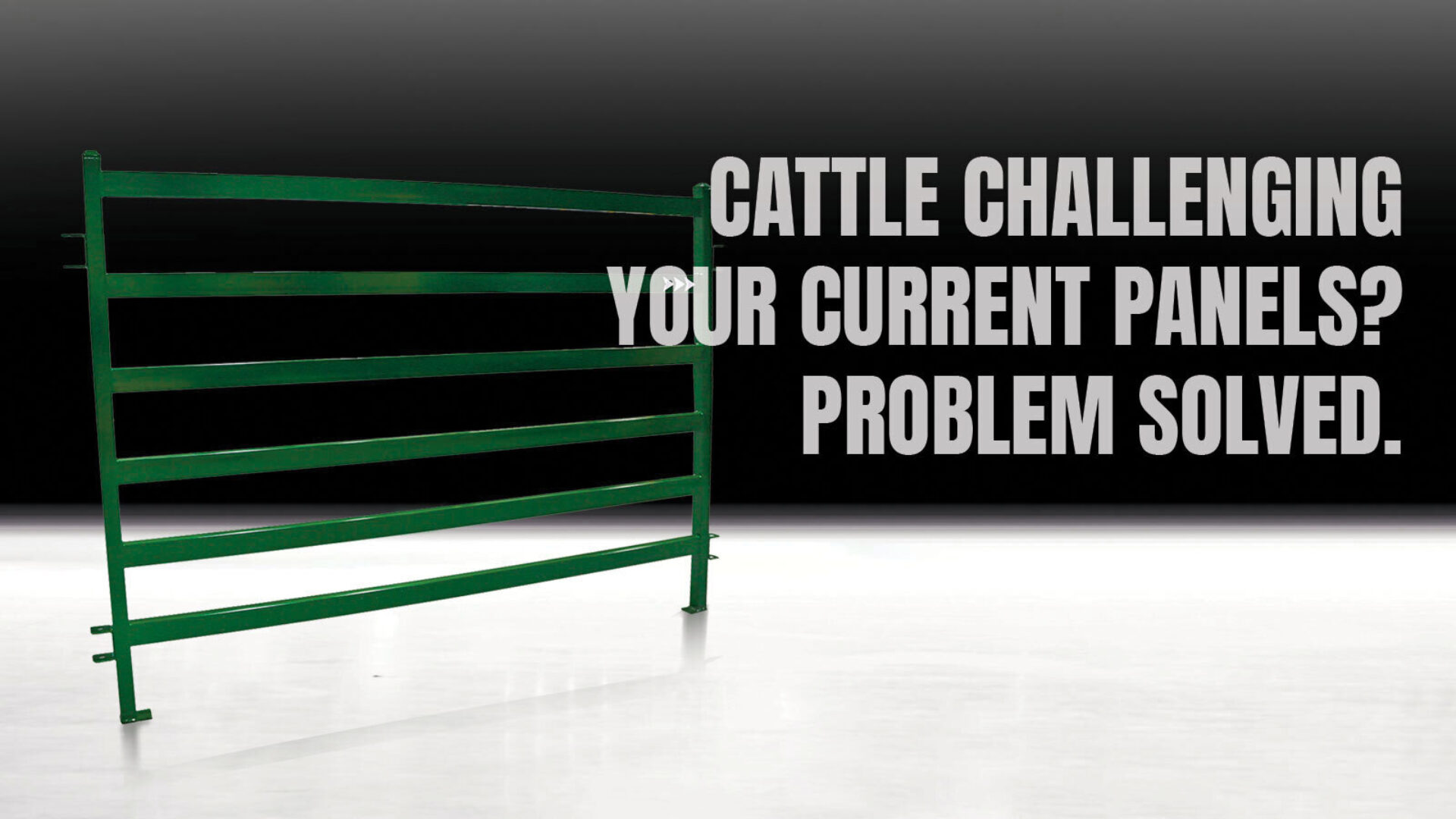 Introducing Arrow Cattle Panels, high-quality corral panels that can be used with any cattle working systems. Arrowquip has long been known for crafting high-quality cattle handling equipment by pairing generations of ranching experience with the latest animal science research and creative engineering. These lines of cattle corral panels are created with animal welfare, handler safety, and proper cattle handling at the forefront of the design process. The result is a series of highly durable corral panels that can be used in any configuration, thanks to the unique 4-way cattle panel connectors and pins.
Arrowquip's Cattle Panels act as a visual barrier cattle easily see to minimize challenging. Additionally, the rectangular and square shape of the rails provide a broad, even surface for cattle to brush up against, dramatically reducing the severity of bruising compared to round rails.
Need added access to your corral system? With Arrowquip's man-gate panel, moving between pens is effortless, and you get easy access to your entire system without having to install a full-size gate. Featuring our slam latch system, never again worry about the gate closing securely behind you.
Whether you need corral panels to create a temporary barrier or are doing a complete overhaul, Arrow Cattle Panels are an investment that will be a part of your operation's legacy now, and for generations to come.
Fill out this form to receive your Arrow Cattle Panels brochure:
Arrow Elite Cattle Panels
| Product Code | PA-4 | PA-8 | PA-10 | PA-12 | PA-14 | MG-10 | AB-8 | AB-10 |
| --- | --- | --- | --- | --- | --- | --- | --- | --- |
| Weight | 77 lbs | 122 lbs | 145 lbs | 169 lbs | 191 lbs | 207 lbs | 90 lbs | 98 lbs |
| Width | 2.3" | 2.3" | 2.3" | 2.3" | 2.3" | 5.3" | 7.5" | 7.5" |
| Height | 72" | 72" | 72" | 72" | 72" | 85" | 89" | 89" |
| Length | 51" | 99" | 121" | 142" | 168" | 118" | 94" | 116" |
| Warranty (Years) | Lifetime | Lifetime | Lifetime | Lifetime | Lifetime | Lifetime | Lifetime | Lifetime |
[ To get a closer look, click on image below ]
Product Features
Durable Cattle Panel Railings

Our Cattle Corral Panels are designed with rectangular and square rails that provide a visual barrier proven to reduce the likelihood of cattle challenging them. The flat, even surface of the rails also reduces the chances of bruising and carcass damage that can occur with smaller contact points, like with oil pipe.

Resilient Cattle Corral Panels

Even with the visual barrier provided by the square and rectangular cattle panel rails, there will always be that one cow that attempts to jump the fence. Arrow Cattle Panels are engineered to flex and absorb the stress and pressure of a cow or bull running against them or making an attempted escape, and the height of the panels deters them from jumping over.

Unique Cattle Panel Clips and Connection

Our unique 4-way pin connection enables you to create a variety of configurations by connecting up to four corral panels from a single point. This key feature offers additional cattle corral design options, while the panel clip connections enable you to modify the configuration of your yard to add more space or change the layout at any time.

Semi-Permanent Cattle Yard Panels

These Cattle Corral Panels are a semi-permanent solution that can easily be added to your existing system to replace a broken section, or can be used for a full cattle working system design overhaul. The semi-permanent design offers the option to modify your cattle yard to add more space or change the design at any time. For extra stability, panel stabilizers are available so you can keep your panels in place, while still having the ability to move them easily.
What is a cattle panel?
A cattle panel is a series of steel railings and upright bars that are welded or bolted together, and used to contain cattle in corrals or pens for processing. High-quality heavy-duty cattle panels are designed with locally sourced North American steel, and welded properly for stability when cattle run up against them. Additionally, you should look for rectangular or square tubing cattle panels to minimize the effects of bruising and associated carcass damage from smaller contact points.
See what Others Have to Say
Want more information?
Contact Arrowquip
Product Specifications
13-gauge steel posts
16-gauge steel rails
High-quality cattle panels for cattle corrals and cattle working systems
Rectangular and square tubing act as a visual barrier, minimizing challenging
Rectangular and square tubing reduce bruising by providing a smooth contact surface
Progressively spaced rails deter calves from sticking their heads through
Built with high-quality North American Steel for enhanced durability and stability
Unique 4-way pin connectors offer flexibility for cattle handling system design
Semi-permanent panels can be changed and modified at any time
Lightweight enough for the rancher to move panels without heavy machinery
Pair perfectly with Arrowquip's cattle panel gates for a custom design
Pins and panel clips included
Arrow Elite panels are backed by Arrowquip's Lifetime Warranty
Arrow Pro panels are backed by Arrowquip's 5-Year Warranty
Available Add-Ons / Options
Contact Arrowquip
Thank you for your interest in Arrowquip! Fill out the short form below and someone from our team will contact you within one business day. In the meantime, you can also check out our FAQ section.
Product Reviews