Cattle Corral Systems Designs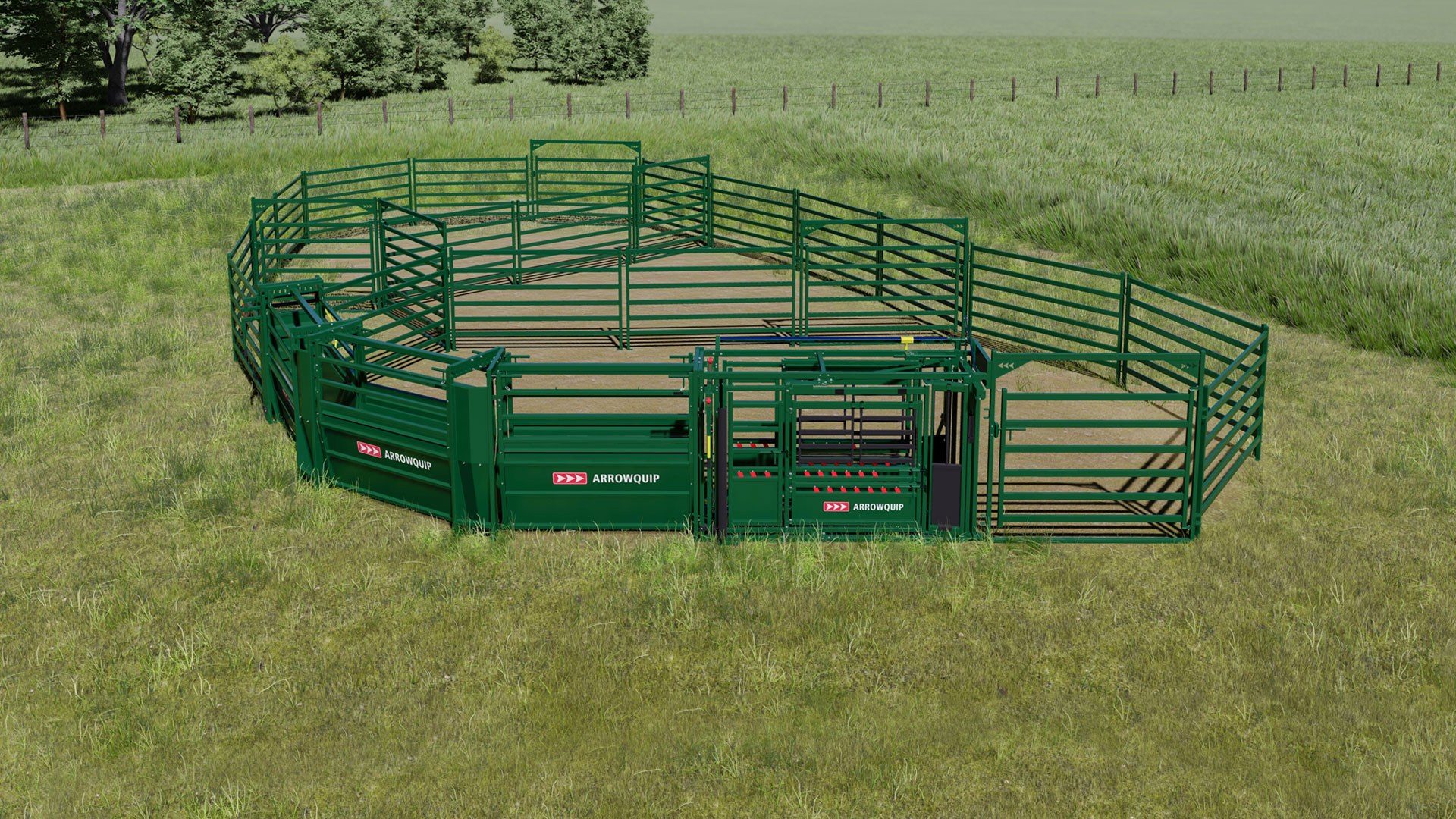 A solid and reliable Cattle Corral System is a must-have for any cattle operation, but choosing the right design and elements can be a challenge with so many options available in the industry. With low-stress cattle working practices becoming a focus for cattle producers, Arrowquip has a team of cattle behavior experts to assist you in crafting your cattle corral design from start to finish with the highest quality components on the market.
What sets Arrowquip Cattle Corral Systems apart from the competition?
1. Natural cattle behavior is considered in our designs.
Every cattle rancher knows how difficult it is to get a stubborn cow to go in a direction she does not want to go. One or two stubborn cows can cause significant delays and elongate the time it takes to work your livestock, costing you time and money.
These Cattle Corral Systems are different, and use the five principles of cattle behavior to create a system that is easy for handlers to use, and livestock to navigate.
2. Truly custom designs.
No cookie-cutter solutions here. Our team of experts will work with you to design a cattle corral that works with the footprint of your ranch, incorporating existing buildings, concrete pads, or any other elements you need to keep in mind to make the installation process a breeze.
3. High-quality cattle working system components.
All Arrowquip cattle working system components are built with the highest quality parts and craftsmanship to provide a reliable cattle working experience. From the first gate your cattle enter through to the squeeze chute, every element is designed by experienced cattle ranchers and engineers for durability and longevity, to ensure your investment will last the test of time.
Ready to dive in and start your cattle corral system design? Let's make your ranch safer with the best cattle corral system you can find.
Get My Cattle Corral Systems Brochure
Fill out this form to receive your Cattle Corral Systems brochure:
I contacted Arrowquip directly and worked with Ryan on the layout. I sent him some sketches, and we went back and forth to come up with a system that would work the way I wanted it to and that would best fit our needs. He even went out to the yard and showed me the options so I could decide on what would work best. Ryan facetimed my guys while we were working on getting everything set up. Arrowquip's panels are built well. I've used a lot of the Priefert panels before, and I like the connection point on the Arrowquip panels more than the chains that I've used on the Priefert's. Arrowquip's panels seem stouter too. I'm pleased with them!
- Todd Hodges, Rancher -
Cattle Corral System Concepts
Draft Pound - Cattle Sorting

The Draft Pound is the heart of your cattle corral system, and is the main point of connection between all of your pens. Typically, this will be placed at the centre of your system, but depending on the needs of your operation and layout it may fall elsewhere.

When compared to a traditional straight, wide alleyway, the Draft Pound is a much safer way to sort livestock into different pens because there are no corners or tight spaces. This works with natural cattle behavior and their desire to move in curved pathways, so a round pen is an efficient shape to keep cattle moving in the right direction.

An added benefit of having a central connection point is that if you miss a catch, the Draft Pound also allows you to bring the animal back into the working system without having to go out to pasture and herd them in all over again.

For increased efficiency and easier sorting, a Draft Pound is an excellent addition to any cattle corral.

Cattle-Free Handler Safety Zone

If you've ever worked cattle with kids around, you know the importance of having a space where they can be safe in your handling system. One space that we always want to include in a cattle corral system design is a cattle-free safety zone to ensure that handlers (and their helpers!) have a place to escape from livestock and take a breath and have a sip of coffee.

As an added benefit, the cattle-free safety zone also provides a safe space for your expensive equipment, like an ultrasound machine, to remain safely out of the path of livestock.

While at first glance it may seem like an extravagance, at Arrowquip, we believe that a cattle-free safety zone for handlers is a must-have in every cattle corral system.

Round Cattle Pen Designs

These are three key reasons why round cattle pens are a key feature of an efficient cattle corral system.

1. No cattle in the corners.
Pressure zone cattle handling is an art and a science. It is a delicate balance of placing pressure on livestock to get them to move in the right direction, while providing a clear escape route to relieve the pressure that you are putting on them. Corners make this challenging, as when an animal is backed into a corner, they are likely to feel trapped and become agitated. Eliminating corners in your cattle corral system allow handlers to properly use pressure zone handling techniques while minimizing the danger of unruly animals.

2. Minimize stress.
Low-stress cattle handling does not equal low-pressure cattle handling, and curved handling systems support point of balance cattle handling techniques. Cattle respect handlers who use pressure strategically, and rounded pens enable the handler to put the right pressure on livestock to move them towards the core working facility without causing excess stress.

3. Easier sorting.
The traditional style of long, wide alleyways make it difficult to sort cattle, as they can turn back and move away from the core of your cattle working facility. Using curved alleyways provides an easier and more efficient processing experience, because the panels help to guide cattle in the right direction instead of excess alleyway space causing delays and hold-ups due to stubborn animals.

3E Cattle Working System - Using Light to Create Flow

3E stands for Easy Entry and Exit. The concept behind our unique 3E Technology is based on one key cattle behavioral trait - that they want to go somewhere they can escape. Our 3E Technology uses light to draw cattle in the right direction, by strategically allowing light to filter through areas you want to move them into while blocking out distractions.

3E Technology can be seen throughout the Arrowquip line, from our highest-end hydraulic squeeze chutes through the alleys and cattle tubs. Every element of your core working system is available with 3E Technology that effortlessly guides cattle in the direction that they need to go with less intervention from those working them.

From the barred head gates on Q-Power and Q-Catch cattle squeeze chutes, to the adjustable blocker panels on Easy Flow cattle alleys, and the low sheeting on BudFlow cattle sweep tubs, every piece of equipment in the Arrowquip line is designed for a smooth, easy cattle working experience with 3E.
Our Process - Crafting a Cattle Working System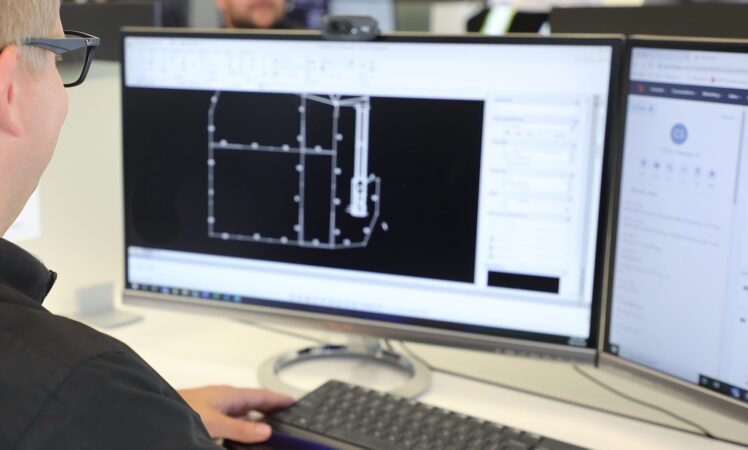 We build our cattle corral systems with the core values of our company in mind - Agile, Fair, and Together - and that is why we offer Complimentary Cattle Corral System Design Services.
The collaborative design process is really what sets your Arrowquip experience apart from the competition. Our team of Livestock Equipment and Design Specialists are not just going to give you a standard system based on the number of head you are running, they will work with the layout of your land, work around existing structures, and customize the design to truly fit the needs of your operation.
Our team of experts work alongside you every step of the way in crafting your new system, from the initial consult through the final installation, we are here to support you with your new cattle corral system design from start to finish.
Book My Free Cattle Working Systems Consult
See what Others Have to Say
Want more information?
Arrow Cattle Panels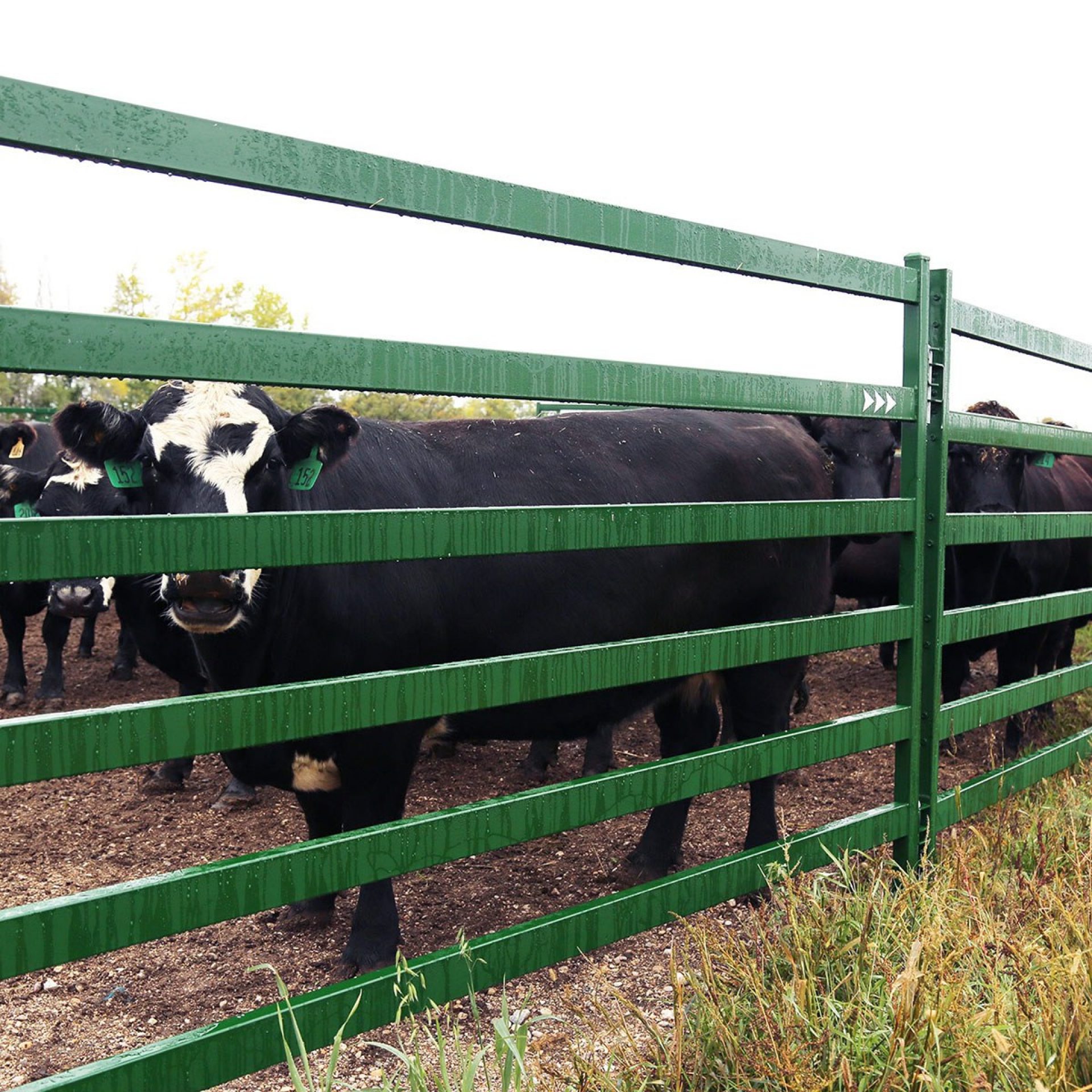 Oil pipe and small round bars are frequently used in cattle panels, but when you look at the data on bruising, dark cutters, and cattle trying to jump over panels, you will quickly see why they are not the best option for your livestock.
Arrow Cattle Panels are different. Our team of engineers and experienced cattle ranchers spent a great deal of time researching and working hard to create a highly durable panel with wide rectangular railings that minimize the likelihood of cattle challenging or jumping a panel. Arrow Cattle Panels are crafted with 3" railings and 14-gauge steel for solid construction without the need for stays. Available in 4', 8', and 10' lengths and backed by 3-Year Warranty for peace of mind.
Whether you need to replace a single panel or are ready for a complete cattle corral system overhaul, Arrow Cattle Panels are the perfect fit for the needs of your operation.
Arrow Cattle Gates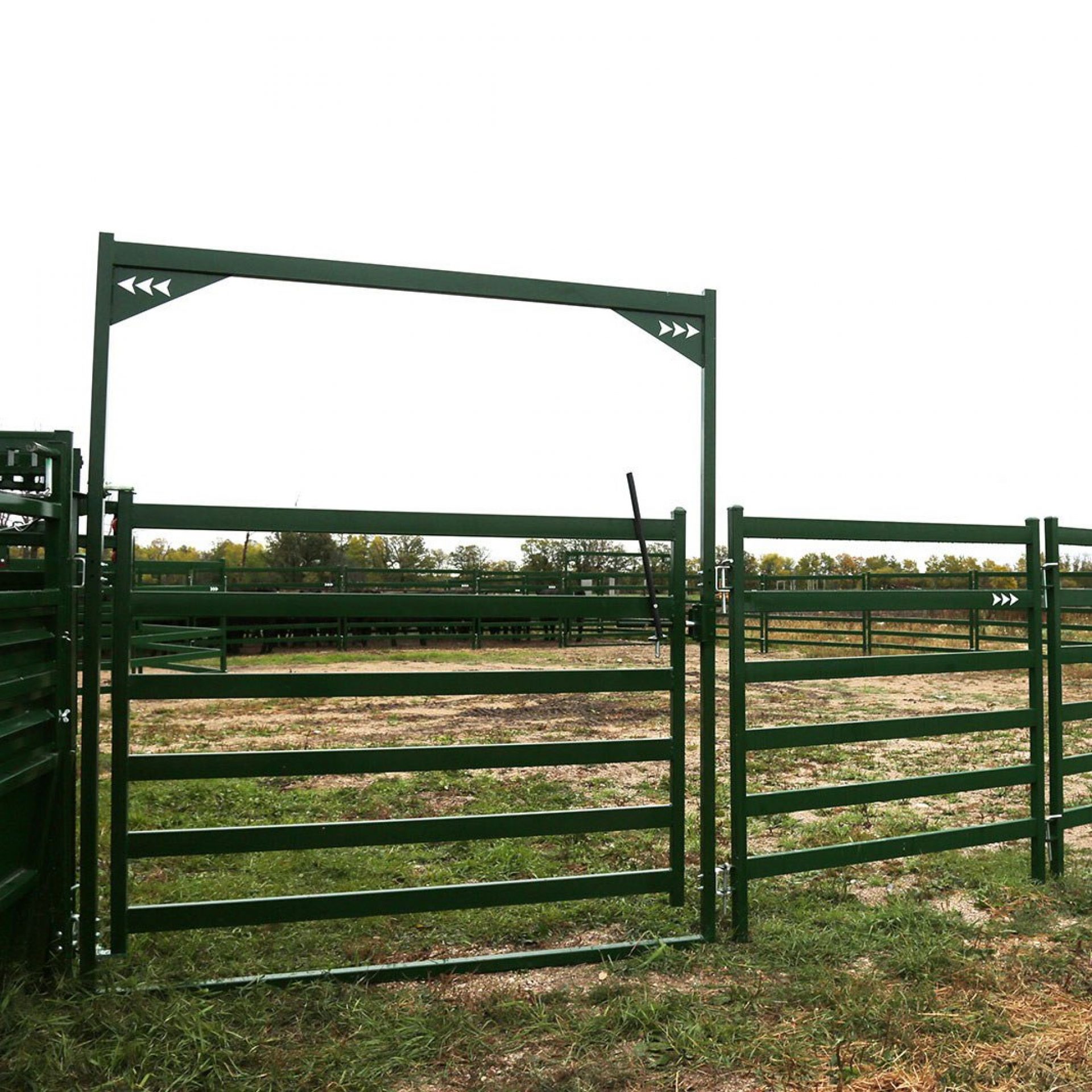 How many times have you closed a gate behind you, only to realize that the gate had other ideas and didn't latch?
Introducing Arrow Cattle Gates, the most reliable cattle gates you will ever have on your lot. Arrow Cattle Gates are crafted with the same highly durable construction as our panels, with 3" wide graduated railings and 14-gauge steel, paired with our exclusive No Miss Latch. Our patented latch ensures that the gate will close behind you securely every time, no matter how hard you slam it, with the unique design and striker plate that ensures the gate will never swing through.
Available in 4', 8', and 10'lengths, and high bows for those who work cattle on horseback, so there is a solution for the needs of every operation. For added reliability, Arrow Cattle Gates are backed by an extensive 3-Year Warranty and lifetime guarantee on the latches, so you know your equipment will last no matter what you throw at it.