Portable Cattle Equipment Innovations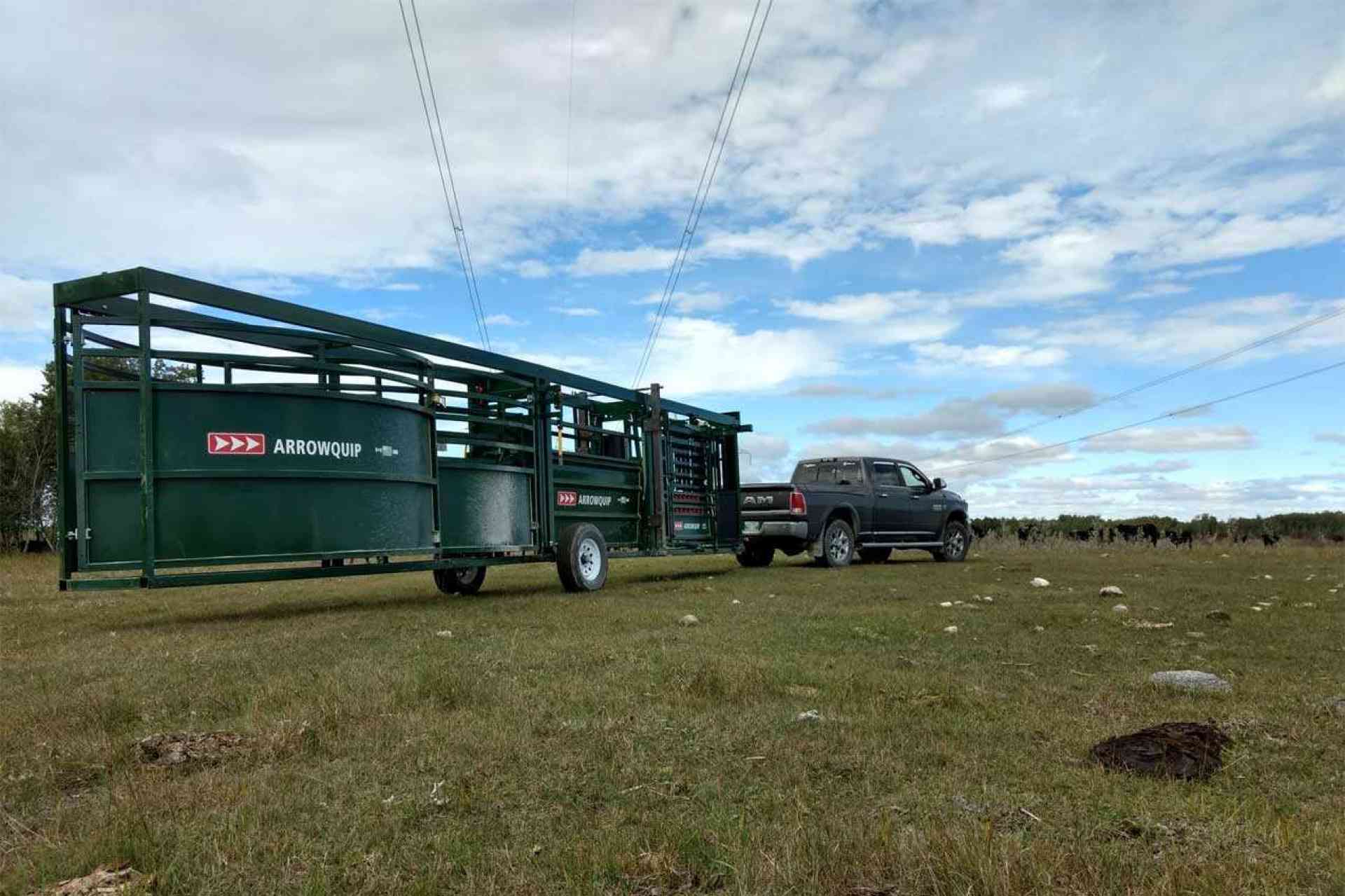 For operations with cattle in multiple locations, it's not practical or economical to have several cattle handling systems. Portable cattle handing systems are ideal when there is a sizable distance between groups of cattle.

Choosing the right portable cattle handling system for your operation can seem like a daunting task. However, there are a few features that portable handling equipment should have, and you'll need to consider the pros and cons of every system before choosing one for your operation.
Portable cattle handling systems offer some benefits when compared to traditional and stationary cattle handling systems. These benefits include:
Increased access to cattle
Ease of use
Increased productivity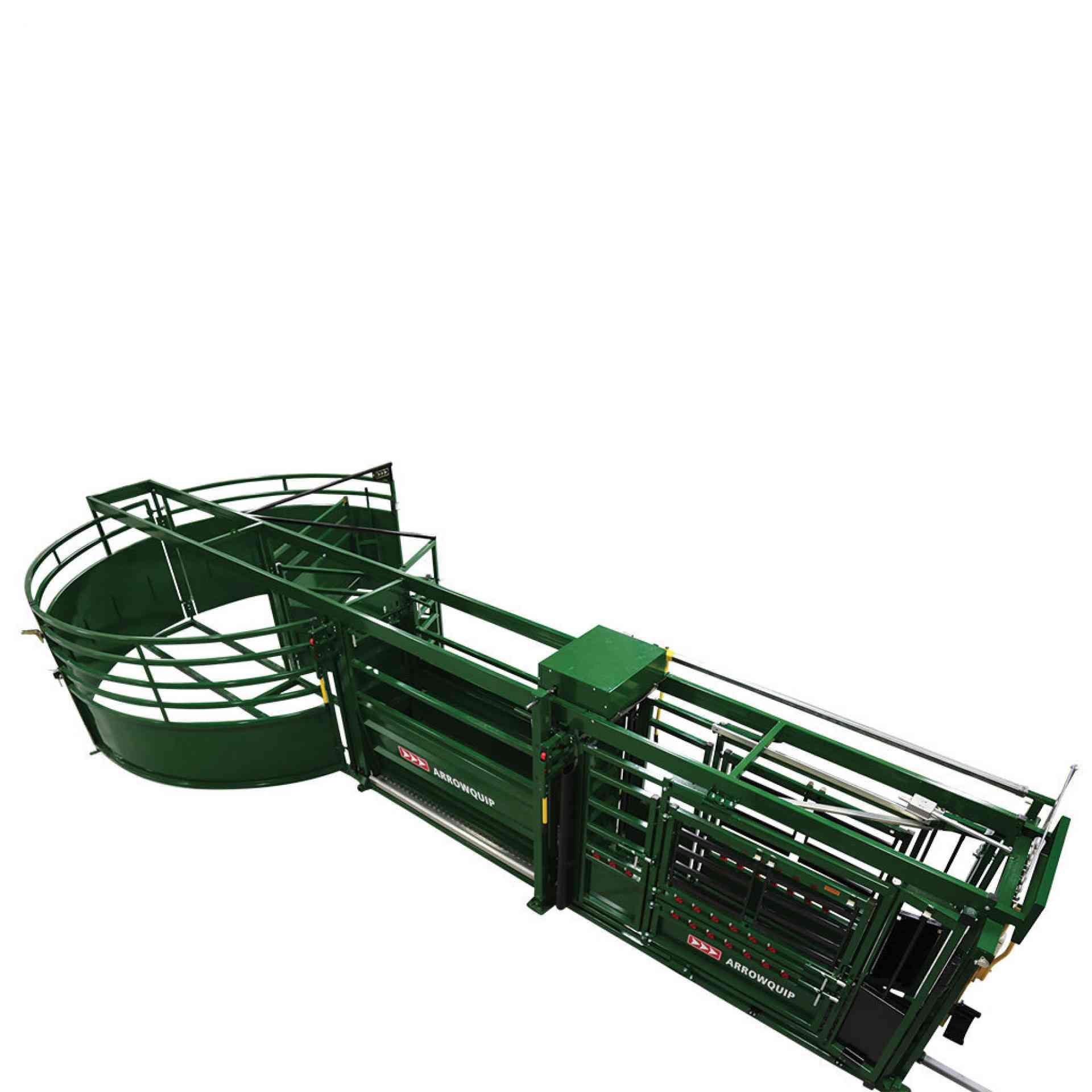 Low-stress handling and portability are the two most important aspects of any portable cattle handling system. Features that can drastically improve the efficiency of your operation include rubber floors for cattle comfort in the chute, a compact system that improves towing, and electric jacks that can lift and lower the unit in a very short time.
A portable system can easily and safely be transported to the location of the cattle. Portable cattle handling systems should be made with heavy-duty tubing and high-quality steel. Lower quality steel will not stand up to the wear and tear of transport and cattle being worked.
What makes a portable system "truly portable"?
Compact towing

The tub on the new portable handling system is collapsible, and measures just 64 inches wide for towing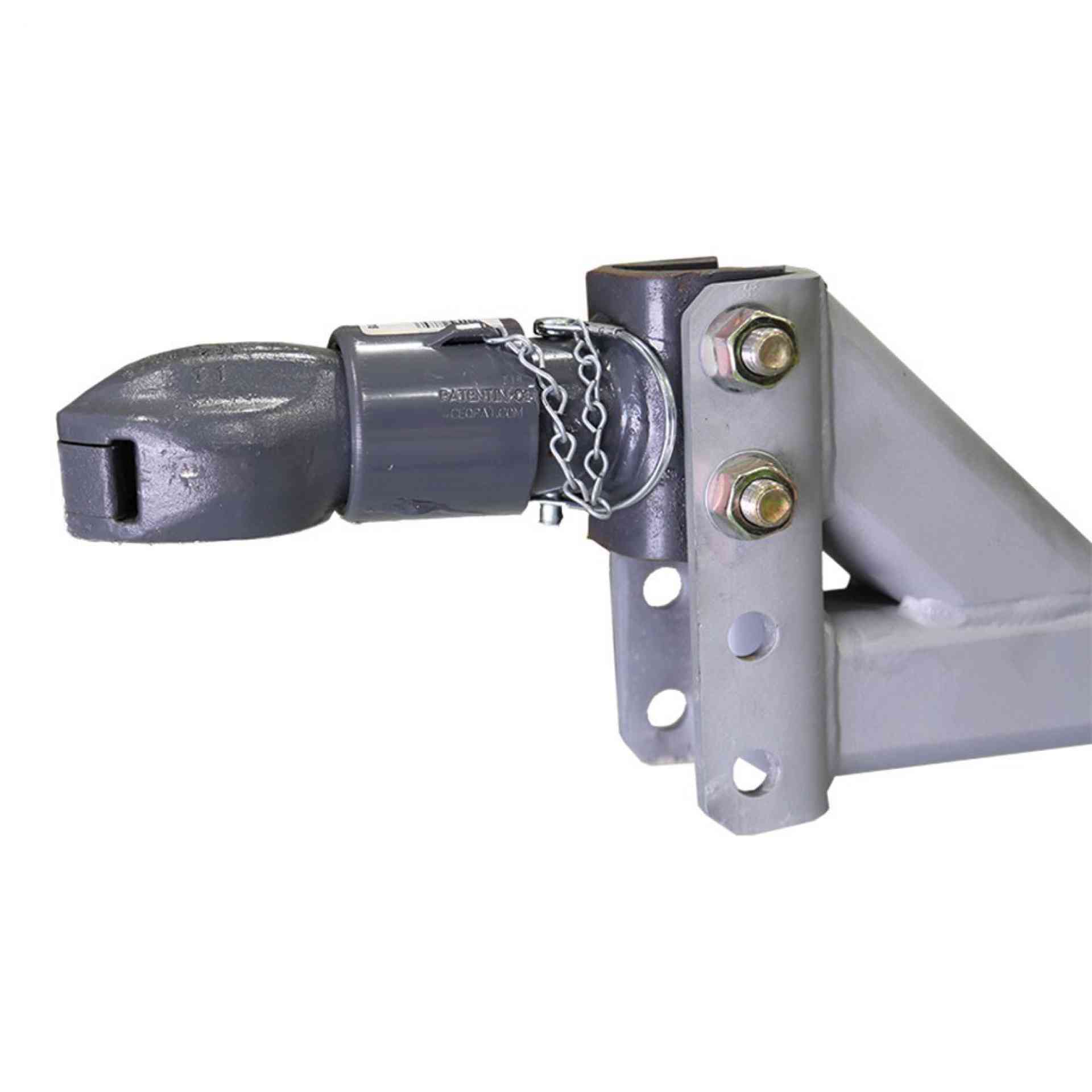 Flexible towing options

Having a choice between different hitch options is ideal, as depending on your requirements you may need a ball hitch or pin hitch
Consider a hitch with adjustable height that can work with multiple vehicle models easily
Reinforced hitches with gussets can help your unit to tow more smoothly

Efficient jack system

One of the biggest problems with portable handling systems is often the time and effort it takes to ready the unit for transport, and to set it down for use handling cattle
A system with electric jacks can drastically improve the amount of time (and eliminate the effort) it takes to lift and lower your unit for towing, making your life much easier!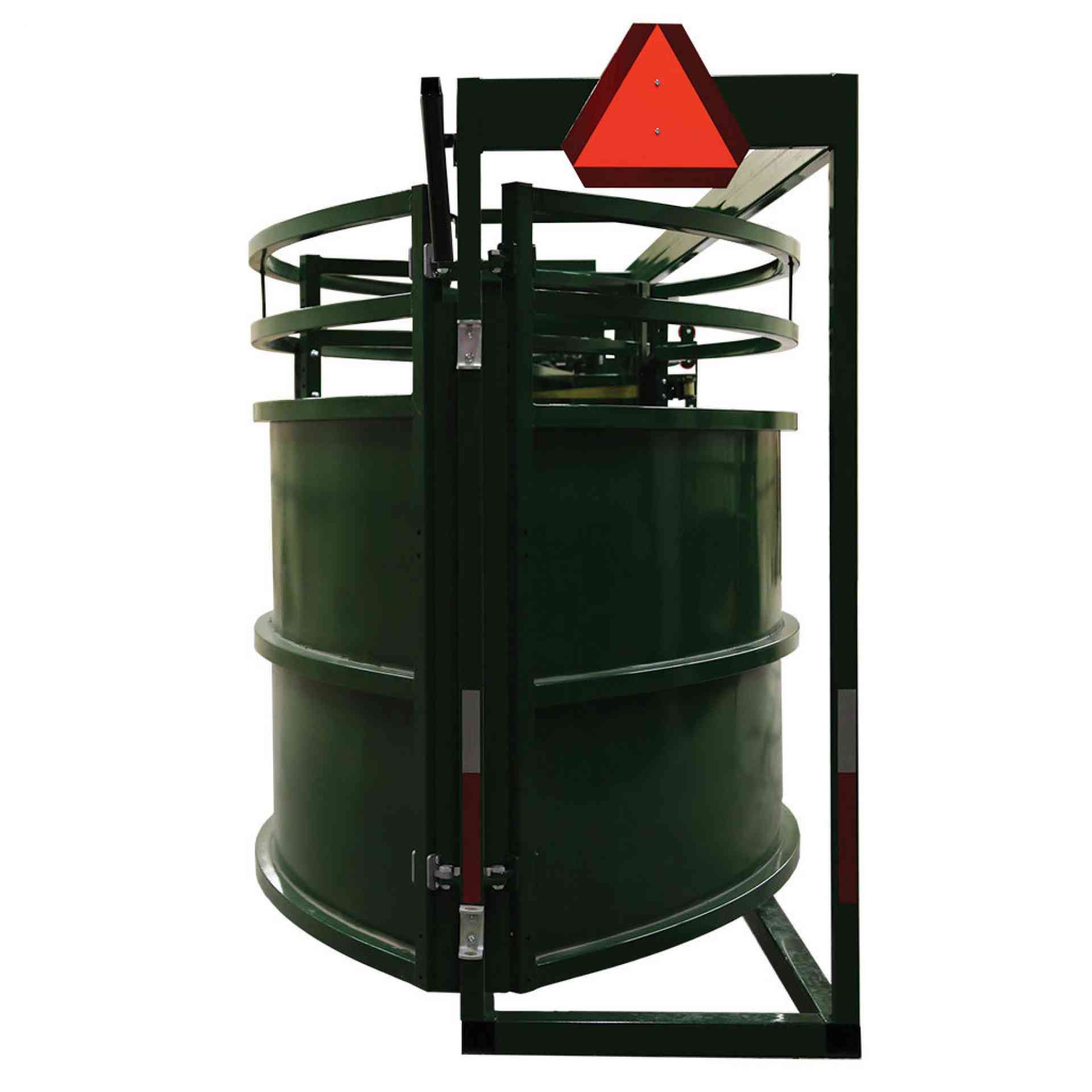 Rubber floors increase traction and decrease cattle slipping or falls. Cattle are frightened or startled by loud noises, and rubber floors are quieter than traditional wood or metal floors. Quiet cattle handling systems are a mantra for Arrowquip. The rubber floor is one way we achieve a quiet cattle-handling system. On our new Q-Catch Portable Cattle Chute, Alley and Tub we also added caulking on the sheet metal, nylon rump fingers, nylon bushings, and anti-rattle rubber hinges. All of these features ensure that the process is quiet and stress free from start to finish for our cattle.

The cradle-shaped Easy Flow Adjustable Cattle Alley from Arrowquip ensures cattle move in a single-file line. It can handle any size of cattle and calves. The new 3E BudFlow from Arrowquip ensures cattle enter and exit the tub smoothly. It allows cattle to see more light as they enter the tub. The alley has 30 inches of sheeting on the entry panel, and an additional panel to the side of the alley. This provides cattle with the impression that they are escaping, rather than entering an enclosed area, and drastically improves the flow of livestock through your handling system.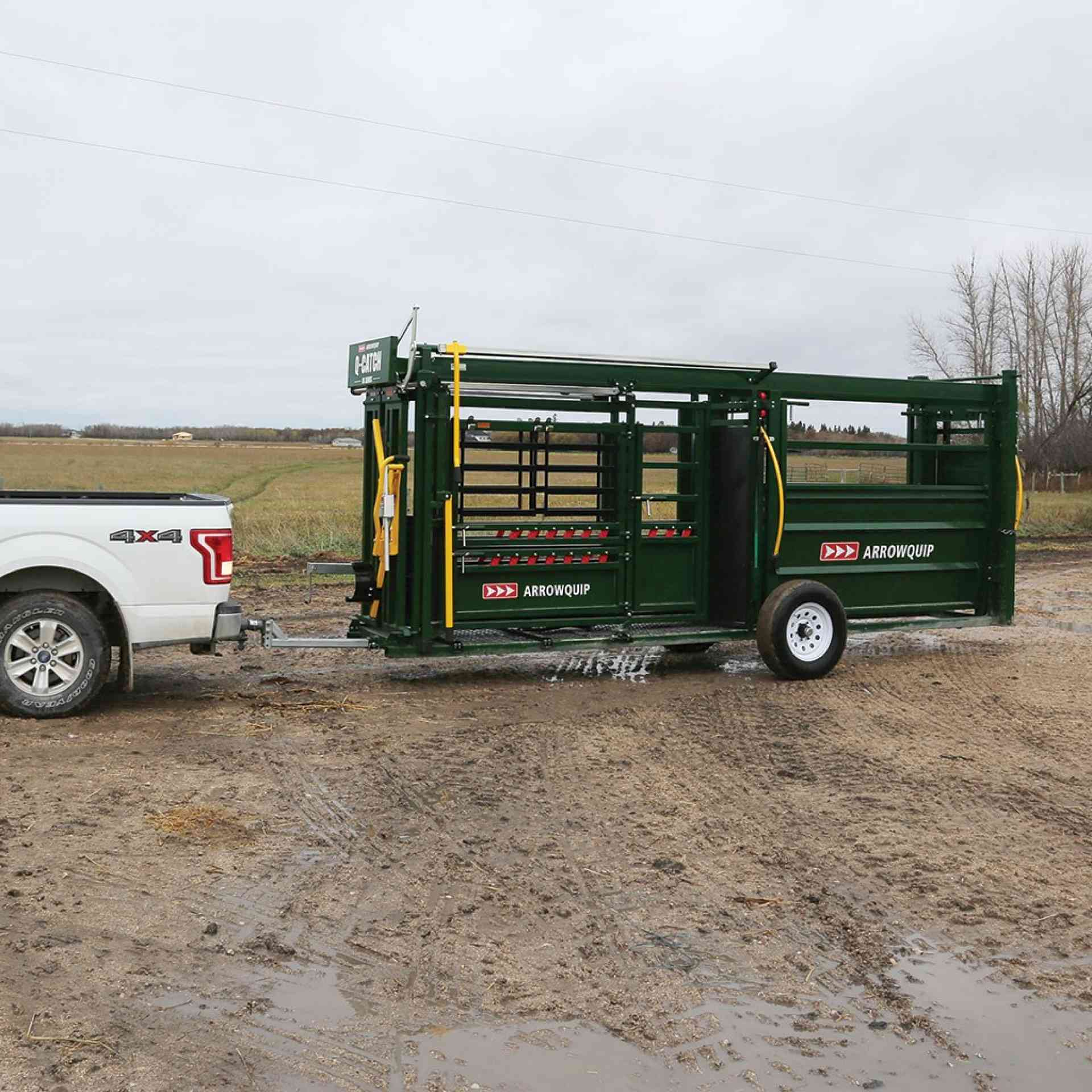 Gates that open fully and have parallel bars give the cattle handler the greatest flexibility when working with different goals or types of cattle in a handling system. The curtain-style doors on the head gate also prevent choking and decrease the likelihood that cattle will stumble when exiting the chute.
The new 2019 Q-Catch Portable Cattle Chute, Alley & Tub has been completely redesigned with new electric jacks, Arrowquip's renowned true rubber floor, the Easy Flow Cattle Alley, and the new 3E BudFlow System. Our research and development team spent hundreds of hours redesigning the system to focus on the qualities ranchers asked us for, including ease of transportation, and adhering to the latest low-stress cattle handling guidelines.
The goals of your operation, and how you want to work cattle will dictate the portable cattle handling system you choose. A portable and adjustable system will help you adapt as the goals and needs of your operation grow. Cattle handling systems that are efficient and effective give you more time to do the things that truly matter, allowing you to get the job done and get back to your family.

References:
University of Kentucky: Cattle Handling Facilities: Planning, Components, and Layout, Alberta Farmer Express, Tyler Harris: Missouri Ruralist