Cattle Chutes & Equipment Frequently Asked Questions
Can I install scales with your chute? Which brands do you recommend?
Our cattle scale equipment is custom designed to work with Gallagher and Tru-Test scales and Alleyway load bars.
What load bars can I use?
Our cattle scale platforms are custom designed to work with Gallagher Heavy Duty and Tru-Test HD1010 load bars.
What gauge of steel is the Q-Catch 86 Series?
Frame is .125 wall. Doors are .100 wall.
Is there any support under the rubber floor?
Yes, full support from front to back with drainage spouts. 7-gauge (3/16) metal pans.
Can I get a self-catch head gate on the front?
No, we do not manufacture self-catch head gates for our chutes. The Q-Catch manual head gate has been recognized globally as the easiest way to work cattle – even easier than a self-catch! Arrange a product demo to see for yourself just how user-friendly the Q-Catch truly is.
What does it weigh?
The Q-Catch 86 Series chute weighs 1950 lbs.
What size are the tires?
ST235/80R16. 16" rim, 31" tire.
Are the tires new or used / recycled rubber?
We only use new rubber in our tires.
Why doesn't the portable unit have a rubber floor?
Our portable chutes do not include the rubber floors to ensure the structural integrity of the unit for towing. We do have other options if the rubber floors are important to you, though! Consider an 86 or 106 with a trailer and the Portable Alley & Tub duo, and you'll have a fully portable system that includes the rubber floors. We are currently in the process of designing the portables to accommodate the rubber floor so this may be counterproductive!
Can I get my controls on the other side?
Yes. Our chutes can be ordered in either a left or right-hand setup.
Can I install a scale system in the Portable System? If so, how?
Yes. The 8' Alley compartment is designed to have a scale system installed. Our alleyway load bars are designed for this purpose.
What should I do before running my gas/electric motor?
Before running your gas/electric motor, you must connect all hoses properly to ensure the motor is not damaged.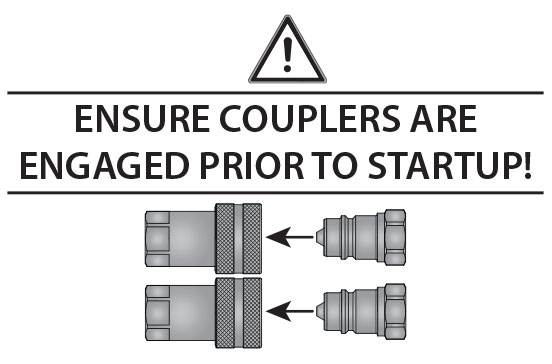 What is the flow?
900 PSI. 6.2 GPM.
What HP is the pump?
The electric pump is 5 HP, and the gas pump is 7 HP.
How does the tractor hook-up work?
The flow control attachment allows you to plug the chute directly into your tractor without risk of damaging your chute, eliminating the need for a pump.
Does your pump have warranty?
The pump is backed by a 1 year warranty.
Do you have a hydraulic head holder?
We do not currently offer a hydraulic head holder. However, we do have the option of a hydraulic head sweep that is integrated into the pivoting hydraulic controls.
Does my dealer stock inventory?
Yes. All Authorized Arrowquip Dealers are required to keep inventory in stock.
My dealer doesn't have your ____ in stock, how can I order one from you directly?
Due to popularity and demand, it is possible that a dealer will run out of specific pieces of equipment on occasion. We recommend placing an order with your Authorized Arrowquip Dealer to have the equipment brought in as soon as possible.
Is there an MSRP?
Our pricing is set by the dealer to ensure that the prices are competitive based on the market in your local area. Request a Custom Quote today to get the best price possible!
Can I get a custom system?
Yes! Our equipment is designed to work together seamlessly to create any configuration your ranch requires. Contact our Product Specialist for more information, drawing suggestions and more!
How fast can I pull your Portable equipment?
Government law recommends that Farm Equipment should be towed at a maximum of 25 mph or 40 km/h.
What is your warranty?
The standard warranty on all equipment is 12 months.
The Q-Catch 86 Series is backed by a 5-year warranty, and the Q-Catch Head Gate locks are backed by a lifetime warranty.
All locking mechanisms are backed by a lifetime guarantee.
Don't see your product listed here? Still can't find the answer you need? Send us an email and our Customer Service Department will be happy to assist you!