Cattle Chute Trailer
Easiest Way To Move Your Cattle Squeeze Chute
5
Weight: 803 lbs.
Dimensions: 82" Wide x 49" High x 180" Long
Product Code: PT500
Arrowquip's Cattle Squeeze Chute Trailer is specifically designed for Arrowquip cattle chutes. The chute trailer ensures you can move your cattle chute safely and efficiently every time, elongating the life of your equipment. The trailer features a yoke-style design that makes it easy to maneuver the trailer, a hand winch that enables you to load the chute quickly and safely, and your choice of a ball or pin-style hitch to add flexibility to your towing set-up.
Get Your Cattle Chute Trailer Brochure
Yoke-style design

The Cattle Chute Trailer features a yoke-style design that makes it easy to maneuver and connect the trailer to the chute for transport.

Adjustable Wheel Placement

The wheel placement on the trailer can be changed depending on the chute you are using the trailer with. This ensures that your trailer will be well balanced during towing, and that you will be able to move your chute safely.
Request My Product Demo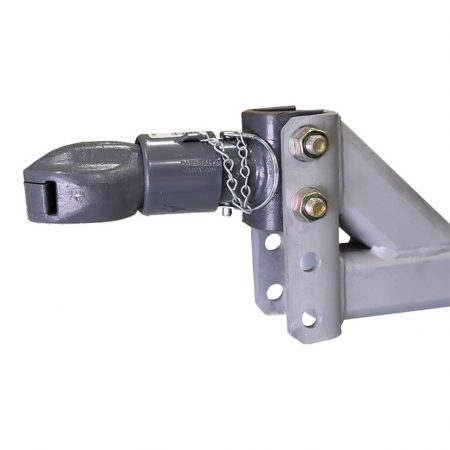 Choice of Hitch

Arrowquip offers two hitch styles, allowing you to select the option that is best suited to your needs and towing preferences.

Simple to Use

With a few simple steps, the Cattle Chute Trailer allows you to make your cattle chute portable in a matter of minutes. Choose from a pin-style or 2.3125 ball hitch.
Request My Price
Contact Arrowquip
Thank you for your interest in Arrowquip! Fill out the short form below and someone from our team will contact you within one business day. In the meantime, you can also check out our FAQ section.
Cattle Chute Trailer Specifications
Heavy-duty construction
Flexible options for towing set-up
Yoke-style design makes it easy to maneuver your trailer
Designed to work specifically with Arrowquip cattle chutes
Includes heavy-duty ratchet strap to ensure the chute remains securely on the trailer