Q-Catch 86 Series Cattle Chute
Cattle Squeeze Chute that is Quiet, Safe & Efficient
5
2 models available:
Deluxe Vet| Standard
View model details below
Product Code: 8600
* Head Holder Optional
Full Video Transcript
The Q-Catch 86 Series gives every rancher the opportunity to purchase the world-renowned silent cattle chute. With the most innovative design on the market, the 86 Series squeeze chute is designed to give you more access and to increase your productivity. Featuring poly bushings on all pivot and latch points and the first true rubber floor ever seen in a cattle chute, the Q-Catch takes quiet livestock handling to a new level. This exclusive squeeze chute is widely recognized as the best cattle chute on the market. By taking the manual work out of the manual squeeze chute, the Q-Catch 86 Series has revolutionized the way ranchers think about cattle handling.
Apply for Financing
Get Your Q-Catch 86 Series Cattle Chute Brochure
Choose your Q-Catch model
Model: Deluxe Vet

Weight: 2022 lbs.

Dimensions: 55" Wide x 92" High x 131" Long

If you want maximum cattle control, versatility, and freedom in your cattle chute, look no further than the Deluxe Vet. Including all the features of the Q-Catch 86 Series, this chute takes your livestock management to the next level with a full-length dual parallel squeeze. Having the vet cage squeeze with the chute allows you to narrow the chute before cattle enter it, so there is no point within your system that a cow or calf can turn around!

Model: Standard

Weight: 1753 lbs.

Dimensions: 55" Wide x 92" High x 106" Long

Working with limited space? The Standard Model of the Q-Catch 86 Series allows you to work your cattle in the most safe and effective way possible, even if you cannot fit a full-sized chute and vet cage into your yard. Including all the standard features of the Q-Catch 86 Series, and offering a variety of add-ons designed to increase your productivity, the Standard is an effective option for operations where space is limited.
Q-Catch 86 Series Cattle Chute Testimonials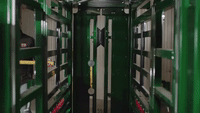 Squeeze Chute Rubber Floor

Rubber floors are proven to reduce stress, increase efficiency and improve the health of your cattle. Arrowquip's maintenance-free, removable rubber flooring brings livestock comfort into the cattle chute, making it as low-stress as possible.

Squeeze

The Q-Catch 86 Series parallel squeeze is unlike any other squeeze chute in the industry. The push-pull squeeze lever never needs to be adjusted to work cattle of varying sizes, as the 29.5" width fits the largest bull and can squeeze down with ease to 7.75" to suit the smallest calf. The squeeze locks in place in any position, ensuring you have all the control you need.
Request My Product Demo
Q-Catch Cattle Head Gate Locking System [PATENTED]

The Q-Catch cattle head gate locking system features a dual friction lock with infinite adjustments, and independent locking doors. The Head Gate Lock is backed by a Lifetime Guarantee.

Powder-Coated Steel

Arrowquip squeeze chutes are powder-coated to reduce wear on the equipment by making it resistant to moisture, chemicals, UV rays, and extreme weather conditions. Our high-quality powder-coat process is combined with primed steel to ensure the most durable quality possible.
Request My Price
Contact Arrowquip
Thank you for your interest in Arrowquip! Fill out the short form below and someone from our team will contact you within one business day. In the meantime, you can also check out our FAQ section.
Q-Catch 86 Series Cattle Chute Specifications
Cattle Head Gate operation handle is user-friendly and can be situated anywhere along the side of the chute
Curtain-style head gate opens to a full 30" top to bottom for cattle to exit the chute
Easy to use push-pull squeeze chute lever
Squeeze ranges from 29.5" fully open to 7.75" fully closed
The Q-Catch squeeze locking system features a dual friction lock with infinite adjustments
Two rows of rump fingers ensure safety no matter the size of the animal
Nylon rump fingers are engineered to endure high pressure
Ambidextrous rolling door that can be operated from either side of the chute
The rolling door running track is top-mounted, eliminating the issue of build-up
Vet door opens in both directions for a full 180° of maneuverability
Improved, low-profile latch ensures the vet cage door will not swing to the inside of the chute when slammed shut
Swing-out top and bottom access doors can be used individually or together to access the entire animal
Side access panels are removable and can be configured in a variety of positions to suit your operation's needs
12.75" needle door access
Rectangular tubing limits cattle bruising and injury
Pivot and latch points feature poly bushings for silent operation
Download My Manual (0.56 MB)
* Priced $156.11/month USD. price is for the Q-Catch 86 cattle chute only. Actual price may vary. Accessories extra. Offers available on select models, OAC. Based on 60-month term. Conditions may apply. Contact Arrowquip for full details.