Arrow Cattle Gates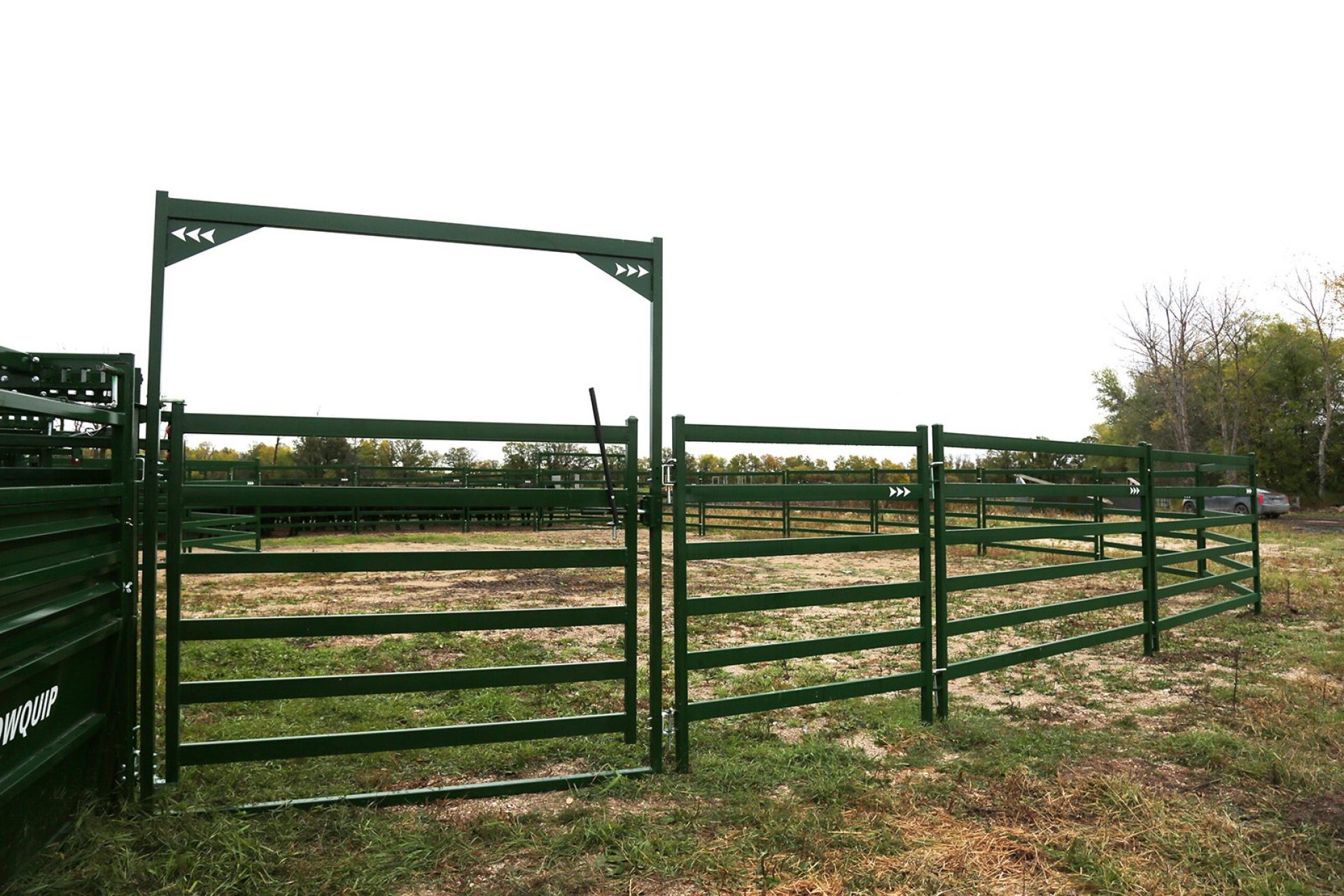 Introducing Arrow Cattle Gates, a new line of heavy-duty gates for cattle yards and handling systems. Like all products in the Arrowquip line, these gates are crafted with thoughtful features for easier, faster, and safer operation. Key features include poly bushings on hinges for maintenance-free operation, progressive rails to prevent calves sticking their heads out, and our unique No Miss Latch system that ensures your gate catches securely every time.
Arrow Cattle Gates are available in 4', 8', and 10' sizes, and you can choose from standard height or high bows for working cattle from horseback. The gates open wide to a full 360°, providing additional flexibility so they can be used at any point in your system effectively, and all bow gates feature a Cowboy Latch that allow you to operate the gate easily from horseback.
Whether you are looking for a single gate to replace one that is broken or are ready to take on a full cattle handling system overhaul, these gates are up to any task you throw at them. Upgrade your yard with a gate that is built to last with an easy to use, heavy-duty Arrow Cattle Gate. Backed by our exclusive 3-Year No Bull Warranty.
Product Features
No Miss Cattle Gate Latches

A gate is only as strong as it's weakest point, and too often that is the latch. The slam latch on Arrow Cattle Gates is the same model that can be found on our Q-Catch and Q-Power cattle chutes, and is designed for user-friendly and maintenance-free operation. With our spring loaded slam latches and no miss two-way striker plate that prevents the gate passing through when it is slammed hard, you can be sure your gate will close securely every single time.

High-Quality Metal Cattle Gates

Like all Arrowquip products, Arrow Gates are designed to withstand the test of time. Gates are crafted with locally sourced 16-gauge steel, thick 3" railings, and are powder coated with the same quality seen on top of the line tractors. Backed by our exclusive 3-Year No Bull Warranty.

Maintenance-Free Cattle Gate Hinges

All Arrow Cattle Gate hinges feature a custom nylon bushing to ensure maintenance-free operation by eliminating metal on metal contact. This is especially important for a cattle yard, as a siezed up gate can cause major processing delays. All gates feature 360° swing capability and can be flippe to operate from the other side, enabling you to move gates from one position to another without concern.

Cattle Gates that Prevent Bruising

All Arrow cattle panels and gates are designed with a total of six 3" rectangular rails. These provide a larger surface area for cattle to come in contact with, and spread out the pressure of contact with the rail itself. Research has proven that larger railings on cattle panels and gates can prevent and minimize the severity of bruising and dark cutters when compared to standard oil pipe and smaller rail options.
How to Mount a Cattle Gate
A high-quality cattle gate should feature a simple connection mechanism to make it easy to install or mount the gate, as delays in fixing or replacing pieces of your cattle working system can eat away at your profits. To install an Arrowquip Cattle Gate, simply connect the gate with our 4-way connector pins to the panel on both ends to secure, and get back to work.
See what Others Have to Say
Want more information?
Get My Brochure
Contact Arrowquip
Product Specifications
Heavy-duty cattle gates for cattle yards and cattle handling systems
No miss two-way striker plate and spring-loaded slam latches ensure the gate closes securely every time
Gate hinges feature poly bushings to prevent seizing
Gates swing a full 360°
Option of standard height or high bow gates for use on horseback
3" rectangular rails provide a large visual barrier
Thick rectangular bars provide a larger surface area for impact, and drastically reduce bruising
Crafted with 16-gauge steel for enhanced durability and stability
Built with locally sourced US and Canadian steel
Available in 4 ft walk through cattle gate (standard only), 8 ft cattle gate (standard and high bow), and 10 ft cattle gate (standard and high bow) dimensions
No stays required, thanks to high-tech engineering and quality design features
Unique 4-way pin connectors offer flexibility for cattle handling system design
Can be used to craft full cattle handling systems or simply replace broken pieces of your current setup
Cattle panel clips and pins included
Semi-permanent gates that can be moved at any time to suit your system as it changes
Pair perfectly with Arrowquip's cattle panels for a custom design
Backed by Arrowquip's exclusive 3 Year No Bull warranty
Misplaced your manual? Download another one now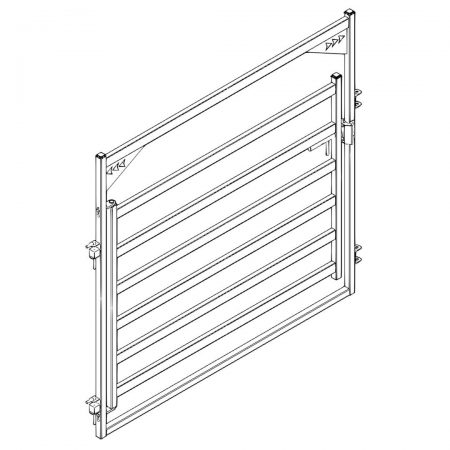 Available Models
Model: 10 ft Cattle Gate

Weight: 90 lbs.

Dimensions: 2" x 89" x 121"

Model: 8 ft Cattle Gate

Weight: 77 lbs.

Dimensions: 2" x 89" x 98.5"

Model: 4 ft Walk Through Cattle Gate

Weight: 62 lbs.

Dimensions: 2" x 89" x 50.5"

Model: 8 ft Bow Gates Cattle

Weight: 88 lbs.

Dimensions: 2" x 108.5" x 98.5"

Model: 10 ft Bow Gates Cattle

Weight: 94 lbs.

Dimensions: 2" x 108.5" x 121"
Available Add-Ons / Options
Contact Arrowquip
Thank you for your interest in Arrowquip! Fill out the short form below and someone from our team will contact you within one business day. In the meantime, you can also check out our FAQ section.